View Full Site
Emily Blunt Bio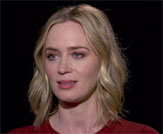 EMILY BLUNT
Date of Birth: February 23, 1983
Born in London, England to a teacher mother and barrister father, Emily Blunt attended a co-ed private school, Ibstock Place, where she participated in academics, athletics, and music. She was prevented from reaching her full potential, however, as she had developed a stutter by age eight. The eventual solution to her speech problem presented itself when she was 12 and one of her teachers cast her in a school play, convincing her to try a different accent. Miraculously, the stutter disappeared with her portrayal of the role, and it was then that she realized she should be a stage actress.
Blunt attended the top boarding school Hurtwood House from 1999-2001, where she studied drama for two years. She was chosen to perform at the Edinburgh International Festival and was signed by agent Ken Reddie, who landed her roles in various stage and television productions. She appeared in the play The Royal Family at London's famous Haymarket Theatre opposite Dame Judi Dench, and won an Evening Standard British Film Award for Most Promising Newcomer.
She made her feature film debut with Boudica (2003), and really began to make a name for herself in My Summer of Love (2004): a drama based on the novel by Helen Cross, in which she plays an upper-class tomboy in a small Yorkshire village. Her stardom continued to rise with her role as Emily in The Devil Wears Prada (2006). She has since appeared in many films including The Jane Austen Book Club (2007), Dan in Real Life (2007), The Great Buck Howard (2008) and Curiosity (2009), along with brief stints in television shows such as Foyle's War (2003), Agatha Christie: Poirot (2004), and The Simpsons (2009).
Blunt's hobbies include horseback riding, singing and playing cello. She was in a relationship with Canadian singer Michael Buble from 2005-2008, with whom she lived part time in Vancouver. He wrote his single "Everything" for her, and she also sings briefly on his album "Call Me Irresponsible."
In 2008, Blunt began dating John Krasinski after she was set up by Devil Wears Prada co-star and close friend, Anne Hathaway. In 2009, Blunt and Krasinski announced their engagement and were married in July 2010 in Italy.
Blunt also appeared in 2011's The Adjustment Bureau alongside Matt Damon and lent her voice to the animated feature, Gnomeo & Juliet. Some of her recent films include the role of Miss Piggy's receptionist in The Muppets (2011), the role of Harriet in Salmon Fishing in the Yemen (2012), Jason Segel's frustrated bride-to-be in The Five-Year Engagement (2012) and one of the female leads in Your Sister's Sister (2012) and Looper (2012). She starred in The Edge of Tomorrow (2014), in Into the Woods (2014) and in Sicario (2015). More recently, she can be seen The Huntsman: Winter's War (2016), and the novel adaptation The Girl on the Train (2016).
Filmography:
The Girl on the Train (2016)
The Huntsman Winter's War (2016)
Sicario (2015)
Into the Woods (2014)
Edge of Tomorrow (2014)
The Wind Rises (2013)
Arthur Newman (2012)
Looper (2012)
The Five-Year Engagement (2012)
The Muppets (2011)
Your Sister's Sister (2011)
Salmon Fishing in the Yemen (2011)
The Adjustment Bureau (2011)
Gnomeo and Juliet (2011) (voix)
Gulliver's Travels (2010)
The Wolf Man (2010)
Wild Target (2010)
The Young Victoria (2009)
The Great Buck Howard (2008)
Sunshine Cleaning (2008)
Charlie Wilson's War (2007)
Dan in Real Life (2007)
The Jane Austen Book Club (2007)
Wind Chill (2007)
The Devil Wears Prada (2006)
Irresistible (2006)
My Summer of Love (2004)
Warrior Queen (2003)

<< back