View Full Site
Emma Thompson Bio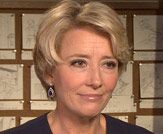 EMMA THOMPSON
Date of Birth: April 15, 1959
Emma Thompson was born in Paddington, England. Acting was in her blood as her father was a stage director and her mother an actress. Thompson started acting while she was still a child and later, when she was taking an English Literature degree at Cambridge, she wrote, directed, and produced the college's first all-female comedy revue.
After graduation, Emma took that comedic sensibility to various comedy clubs around London with her own stand-up act that led to a comedy series on British television. She met her (now ex) husband, actor-director Kenneth Branagh, when she joined his Renaissance Theatre Company. They married a year later and have since divorced.
And yes, she says it's true that she keeps the Academy Award she won for her role in the Merchant Ivory production Howards End in the bathroom of her London house. But at least now it has company as she also won a second Oscar, this time for Best Screenplay for Sense and Sensibility. Her take on whether she's an anomaly or not in the Hollywood food chain is this: "There are a lot of highly intelligent women who can act. There are not too many roles to fill—that's the problem."
Emma has enjoyed a successful career in acting, starring in such popular films as Love Actually (2003), Harry Potter and the Prisoner of Azkaban (2004), Nanny McPhee (2005) - for which she also wrote the screenplay, Stranger Than Fiction (2006), Harry Potter and the Deathly Hallows - Part 2 (2011), Men in Black 3 (2012) and the voice of Elinor in the Disney/Pixar feature Brave (2012).
In 2013, Emma was nominated for a Golden Globe for her portrayal of crusty Mary Poppins author P.L. Travers in Saving Mr. Banks (2013) opposite Tom Hanks as Walt Disney. Most recently, Emma played the mother of the title character in The Legend of Barney Thomson (2016), despite being only two years older than the actor playing her son, Robert Carlyle. She has since appeared as the hapless lead character's doctor in Bridget Jones's Baby (2016), which she also co-wrote with the author of the Bridget Jones' books, Helen Fielding and Dan Mazur, and joined Emma Watson and Dan Stevens for the live-action adaptation of Beauty and the Beast (2017). In the film, she plays Mrs. Potts.
Emma married second husband Greg Wise on July 29, 2003. They have a daughter, Gaia Romilly Wise.
Filmography:
Alone in Berlin (2017)
Beauty and the Beast (2017)
Bridget Jones's Baby (2016)
The Legend of Barney Thomson (2016)
Adam Jones (2015)
Saving Mr. Banks (2013)
The Secret Evidence (2013)
Love Punch (2013)
Beautiful Creatures (2013)
Voyage of Time (2013)
Effie (2012)
Brave (2012) (voice)
Men in Black 3 (2012)
Harry Potter and the Deathly Hallows - Part 2 (2011)
Nanny McPhee Returns (2010)
Pirate Radio (2009) (uncredited)
An Education (2009)
Last Chance Harvey (2008)
Brideshead Revisited (2008)
Harry Potter and the Order of the Phoenix (2007)
Stranger Than Fiction (2006)
Nanny McPhee (2005)
Harry Potter and the Prisoner of Azkaban (2004)
Imagining Argentina (2003)
Love Actually (2003)
Treasure Planet (2002) (voice)
Maybe Baby (2000)
Junket Whore (1998)
Judas Kiss (1998)
Primary Colors (1998)
The Winter Guest (1997)
Carrington (1995)
Sense and Sensibility (1995)
Junior (1994)
My Father the Hero (1994)
In the Name of the Father (1993)
Much Ado About Nothing (1993)
The Remains of the Day (1993)
Howards End (1992)
Peter's Friends (1992)
Dead Again (1991)
Impromptu (1991)
Henry V (1989)
The Tall Guy (1989)
<< back