View Full Site
George Lopez Bio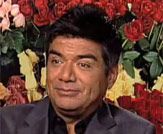 GEORGE LOPEZ
Date of Birth: April 23, 1961
Before becoming the star of his self-titled sitcom, or the host of his current talk show, Lopez Tonight, comedian George Lopez had a shaky start. Born in Mission Hills, California, he had a difficult childhood after his mother left him to be raised by a neglectful grandmother. But as a young adult, Lopez used a lot of material from his childhood for his comedic routines, which often centered on his Hispanic culture and race relations in the U.S.
By the late 1980s, Lopez was performing at comedy clubs across the U.S. and in TV shows and comedy specials. He first pursued acting in movies in the early 1990s with such films as Ski Patrol (1990) and Fatal Instinct (1993). But his big break came in 2002 when actress Sandra Bullock noticed there were no Hispanic television sitcoms and sent scouts from her production company to search for Hispanic talent in the U.S. Lopez was discovered and Bullock became the executive producer of his ABC comedy series, George Lopez, which is based partly on his personal experiences and for which TV Guide named him one of "The 50 Greatest TV Dads of All Time." He became the fourth Hispanic actor to lead a television series, after actors Desi Arnaz (I Love Lucy), Freddie Prinze (Chico and the Man) and Paul Rodriguez (a.k.a. Pablo).
During the show's run until 2007, Lopez continued to do standup comedy and was nominated for Best Comedy Album at the Grammys in 2004 for his album, "Team Leader." In the same year, his autobiography, "Why You Crying?" was published and in 2006 he received a star on the Hollywood Walk of Fame.
The comedian's Hispanic roots are very important to him and he was named one of "The Top 25 Most Influential Hispanics in America" in 2005 by Time magazine. In 2003 he also won a Latino Spirit Award for Excellence in Television. He continues to act on the big screen in movies such as The Spy Next Door and Valentine's Day. He lent his voice for the animated films The Smurfs 2 (2013) and more recently, Rio 2 (2014).
After having a health scare in 2005, Lopez needed a kidney transplant and his wife, Ann Serrano, was his donor. The couple became spokespeople for the National Kidney Foundation. They have been together since 1993 and have one child.
<< back