View Full Site
Hailee Steinfeld Bio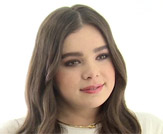 HAILEE STEINFELD
Date of Birth: December 11, 1996
Fresh faced, scene stealer Hailee Steinfeld made her mark on both the small screen and big before the age of 15, including the Coen brothers' Wild West pot boiler, True Grit.
Born in Twin Oaks, California, Hailee was home schooled most of her life, before a role in a K-Mart commercial led the actress-to-be to land small parts on the TV series Back to You and Sons of Tucson.
In 2010 Hailee snagged a critical role in True Grit, a remake of the John Wayne classic, staring opposite Jeff Bridges and Matt Damon. Playing an orphaned girl in search of her father's killer, Steinfeld was rumored to have beat out Kick Ass star Chloe Grace Moretz and Mad Men's Kiernan Shipka for the part, leaving little doubt the young starlet would be the next big child star to take center stage in Hollywood. For her performance in the film, she received Oscar and BAFTA nominations, and won numerous film critics awards, as well as a Young Hollywood Award for Breakthrough of the Year.
Hailee went on to bag two big films in 2013: Romeo & Juliet (2013) and Ender's Game(2013), then co-starred in the thriller 3 Days to Kill (2014), opposite Kevin Costner. She then played a starring role in the sequel Pitch Perfect 2, as a freshman who joins the successful a cappella troupe The Barden Bellas, alongside Anna Kendrick.
Most recently, she starred in crime thriller Term Life (2016) alongside Vince Vaughn and the teen dramedy The Edge of Seventeen (2016) opposite Woody Harrelson, Kyra Sedgwick, Blake Jenner, and Haley Lu Richardson.
Filmography:
Pitch Perfect 3 (2017)
The Edge of Seventeen (2016)
Term Life (2016)
Barely Lethal (2015)
Pitch Perfect 2 (2015)
Ten Thousand Saints (2015)
The Homesman (2014)
The Keeping Room (2014)
3 Days to Kill (2014)
Hateship Loveship (2014)
Romeo and Juliet (2013)
Ender's Game (2013)
True Grit (2010)
<< back