View Full Site
Harrison Ford Bio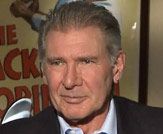 HARRISON FORD
Date of Birth: July 13, 1942
Born in Chicago, Illinois, the story is now legendary how the man we came to know as Han Solo and Indiana Jones almost never was. A lacklustre student, Ford dropped out of Wisconsin's Ripon College and headed out to try his luck in Hollywood. Signing on with Columbia and later Universal Studio brough him some unremarkable TV roles in such shows as Ironside, Gunsmoke and The Virginian.
Not at all pleased with the way his career was going, Ford decided to teach himself carpentry and was making a comfortable living at that trade when George Lucas convinced him to put his hammer down and take on the role of Bob Falfa in American Graffiti. Ford agreed and turned in a great performance.
Four years later, Lucas again turned to Ford to take on the role of Han Solo in Star Wars. That film, of course, was huge and turned Ford into an equally huge star, a position he further enhanced with his take on daredevil archeologist Indianna Jones in Raiders of the Lost Ark and its sequels.
As for his proclivity to shy away from doing interviews and meeting with the media, he says: "I think it's unseemly to air your problems and dirty laundry in public. I don't feel any obligation or need to make myself seem interesting. I've always said that the most interesting thing about me is the job I do. I myself have very little interest in other people's personal lives." He also starred in the corporate espionage thriller Paranoia (2013)and played a role in The Expendables 3 (2014).
More recently, he starred in The Age of Adaline (2015) and in Star Wars: The Force Awakens (2015).
Divorced from his second wife, screenwriter Melissa Mathison, with whom he has two children (his other two children are with first wife Mary Marquardt), Ford seems to have developed a predilection for much younger actresses, first dating Minnie Driver—28 years his junior, before moving on to Calista Flockhart (22 years younger). After many years together, they married June 15, 2010.
The American Film Institute presented Ford with the Cecil B. DeMille Award for Life Achievement at the 59th Annual Golden Globe Awards on January 20, 2002.
<< back