View Full Site
Hayden Panettiere Bio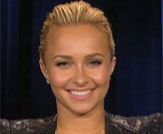 HAYDEN PANETTIERE
Date of Birth: August 21, 1989
Hayden Panettiere became a tax-paying U.S. citizen at just 11 months of age, when she landed her first commercial. It was the first of over 50 TV ads the little girl would appear in. By the time she was 4 1/2, Hayden was cast on the soap opera One Life to Live as Sara Victoria Roberts. She would stay with the show until 1997. In 1996, she also played a role in the HBO TV movie for kids, Are You There, God? (1996), and was cast as Lizzie Spaulding on Guiding Light, a role she would continue for the next four years. The part allowed her to portray a variety of emotions as her character shot and killed her mother's abuser; was kidnapped; and suffered from leukemia. Her talent did not go unnoticed - in the July 21, 1998 issue, she was Soap Opera Magazine's star of the week and she was also nominated in 2000 for a YoungStar award as "Best Young Actress in a Daytime TV Series."
Hayden made her big screen debut with a small role in The Object of My Affection (1998) starring Jennifer Aniston. More roles in feature films followed, including a sizeable role as Coach Yoast's football-obsessed daughter in Remember the Titans (2000) with Denzel Washington, and The Affair of the Necklace (2001), playing Hilary Swank's character as a young girl.
Although she was cast as the diabetic Sarah Altman in Panic Room (2002), when Nicole Kidman, who was supposed to play her mother, dropped out of the film due to an injury and Jodie Foster took her place, Hayden was replaced by Kristen Stewart. However, Hayden kept busy with a regular role as Ally McBeal's spunky daughter in the final season of the sitcom, as well as playing the daughter of Jessica Lange and Tom Wilkinson in the Sundance Festival award-winning film Normal (2003).
In Raising Helen (2004), Hayden played Kate Hudson's niece—the oldest of three children who suddenly lose their parents. She also starred in Racing Stripes, playing a young jockey who helps a zebra realize his dream of becoming a racehorse, and in Ice Princess, about a young girl (Michelle Trachtenberg) who wants to be a champion figure skater.
In 2006, she became a household name when she landed a regular starring role as Claire Bennet on NBC's new fantasy series Heroes, which soon became a hit.
Born in Palisades, New York, Hayden has a younger brother Jansen (with whom she co-starred in the 2004 Walt Disney TV movie Tiger Cruise). Her hobbies include singing, dancing, horseback riding, swimming, gymnastics, karate and playing piano.
Filmography:
Alpha and Omega (2010)
Hoodwinked 2: Hood vs. Evil (2010) (voice)
I Love You, Beth Cooper (2009)
Fireflies in the Garden (2008)
The Architect (2006)
Ice Princess (2005)
Racing Stripes (2005)
The Dust Factory (2004)
Raising Helen (2004)
Normal (2003)
Joe Somebody (2001)
The Affair of the Necklace (2001)
Remember the Titans (2000)
Dinosaur (2000) (voice)
Message in a Bottle (1999)
A Bug's Life (1998) (voice)
The Object of My Affection (1998)
<< back