View Full Site
Hayley Atwell Bio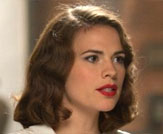 HAYLEY ATWELL
Date of Birth: April 5, 1982
Hayley Atwell was born in London, England. She has dual citizenship in both the United Kingdom and America. Her mother, Allison Cain, is a professional motivational speaker, while her father, Grant Atwell, is a photographer, massage therapist and shaman. When Hayley was two her parents obtained a divorce, and Hayley stayed in the U.K. with her mother, although she spent summers in Missouri with her father.
Hayley graduated in 2005 from Guildhall School of Music and Drama. Since then Hayley has gone on to appear on stage, television, radio and film.
After several television appearances, she made her movie debut in Woody Allen's feature film Cassandra's Dream in 2007, alongside Ewan McGregor and Colin Farrell.
Her biggest break came when she landed the role of Peggy Carter in Captain America: The First Avenger. When the 2011 hit summer blockbuster was released, comic fans fell in love with Hayley's portrayal of the character. Marvel has since spun Peggy Carter off to her own television series, titled Agent Carter. Originally the show was slated to be a 12-episode miniseries, but the show was so well received that it was revived for a second season.
Hayley reprised her role as Peggy Carter in Ant-Man in 2015 and also found time to play Cinderella's mother in Cinderella.
Filmography:
Ant-Man (2015)
Cinderella(2015)
Avengers: Age of Ultron (2015)
Captain America: The Winter Soldier (2014)
Testament of Youth (2014)
Jimi: All Is by My Side (2013)
I, Anna (2012)
The Sweeney (2012)
Captain America: The First Avenger (2011)
Brideshead Revisited (2008)
The Duchess (2008)
How About You (2007)
Cassandra's Dream (2007)
<< back