View Full Site
Helen Mirren Bio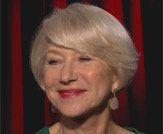 HELEN MIRREN
Birth Name: Ilyena Lydia Mironoff
Date of Birth: July 26, 1945
Born and raised in London, England, Mirren is a descendant of a Russian noble family—her father was a Russian aristocrat who was stranded in London after the 1917 Russian Revolution. Knowing she wanted to become an actress as early as age six, Mirren tried to please her parents with a stint at a teacher's college, but ultimately joined the National Youth Theatre, starting her acting career on stage.
As early as age 18 she was landing starring roles such as Cleopatra in Shakespeare's Anthony and Cleopatra at London's Old Vic Theatre. In 1967 she landed a position among the prestigious Royal Shakespeare Company where she performed many of greatest heroines including Lady Macbeth, Ophelia, and Julia from Two Gentlemen of Verona.
She started her career on screen in 1967 with Herostratus. A largely forgettable film, she followed it up with far stronger showings in such films as The Age of Consent (1969), The Long Goodbye (1973), O Lucky Man! (1973), Caligula (1977), Excalibur (1981), Cal (1984) (earning her the Best Actress award at Cannes) and The Madness of King George (1994). Her portrayal of Queen Charlotte in the latter film earned her her first Academy Award nomination for Best Supporting Actress.
In 1990 she earned considerable notice from television viewers for her role as DCI Jane Tennison, a hard-boiled detective, in the miniseries, Prime Suspect. The popular series went on to produce two other miniseries and three telefilms. It also garnered her three BAFTA awards and an Emmy for Best Actress.
Her feature film performances continued to thrive into this millennium with strong showings in Greenfingers (2000), The Pledge (2001), Gosford Park (2001) (which earned her a Golden Globe and an Academy Award nomination for Best Supporting Actress), and Calendar Girls (2003). She won a second and third Golden Globe in 2007, for her performance as Queen Elizabeth I in the TV miniseries Elizabeth I (2005) and as Queen Elizabeth II in the feature film The Queen (2006). She also won an Academy Award as Best Actress for her role in The Queen (2006). In 2010, she received a fourth Academy Award nomination, this time for her work in The Last Station.
The actress continued working steadily well into the 2010s, appearing in projects such as Arthur (2011), Hitchcock (2012), RED 2 (2013), and Monsters University (2013). She then starred alongside Ryan Reynolds in Woman in Gold (2015). Also in 2015, she starred in the thriller Eye in the Sky (2015) and the biographical drama Trumbo (2015). Most recently, Mirren appeared opposite Will Smith in the drama Collateral Beauty (2016) and Vin Diesel in the action flick The Fate of the Furious (2017).
Helen reprised her Academy Award-winning role as Queen Elizabeth II in the highly-anticipated West End production of The Audience, broadcast live from London's Gielgud Theatre as part of National Theatre Live.
In a 2008 GQ interview, Mirren revealed she had been date raped as a student and had often taken cocaine at parties during the 1980s. She stopped using the drug after reading that Klaus Barbie made a living from cocaine dealing.
In 1997 she married director Taylor Hackford, and they make their home in the Los Angeles area. Mirren was made a D.B.E. (Dame of the British Empire) in June 2003.
In September 2007, Mirren's autobiography, In the Frame: My Life in Words and Pictures, was published. It was reviewed as an honest depiction of her life thus far, delving into the details of her life in the theater.
Although she has a successful career on screen, Mirren never fully abandoned her love of stage and always makes time to perform on it.
Filmography:
The Nutcracker and the Four Realms (2018)
Winchester (2017)
The Fate of the Furious (2017)
Collateral Beauty (2016)
Trumbo (2015)
Eye in the Sky (2015)
Woman in Gold (2015)
The Hundred-Foot Journey (2014)
RED 2 (2013)
Monsters University (2013)
Hitchcock (2012)
The Door (2012)
Arthur (2011)
RED (2010)
Legend of the Guardians: The Owls of Ga'Hoole (2010)
Brighton Rock (2010)
The Tempest (2010)
The Debt (2010)
Love Ranch (2010)
The Last Station (2009)
State of Play (2009)
Inkheart (2008)
National Treasure: Book of Secrets (2007)
The Queen (2006)
Shadowboxer (2005)
The Hitchhiker's Guide to the Galaxy (2005)
Raising Helen (2004)
The Clearing (2004)
Calendar Girls (2003)
Gosford Park (2001)
Last Orders (2001)
Happy Birthday (2001)
No Such Thing (2001)
The Pledge (2001)
Greenfingers (2000)
Teaching Mrs. Tingle (1999)
The Prince of Egypt (1998)
Critical Care (1997)
Some Mother's Son (1996)
The Madness of King George (1994)
Royal Deceit (1994)
The Hawk (1993)
Where Angels Fear to Tread (1991)
Bethune: The Making of a Hero (1990)
The Comfort of Strangers (1990)
The Cook, the Thief, His Wife & Her Lover (1989)
When the Whales Came (1989)
Pascali's Island (1988)
The Mosquito Coast (1986)
The Gospel According to Vic (1986)
White Nights (1985)
2010: The Year We Make Contact (1984)
Cal (1984)
Excalibur (1981)
The Fiendish Plot of Dr. Fu Manchu (1980)
The Long Good Friday (1980)
Hussy (1980)
The Quiz Kid (1979)
Caligula (1979)
Hamlet (1976)
O Lucky Man! (1973)
Savage Messiah (1972)
Red Hot Shot (1970)
Age of Consent (1969)
A Midsummer Night's Dream (1968)
Herostratus (1967)
<< back