View Full Site
Holly Deveaux Bio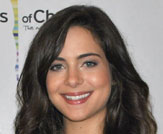 HOLLY DEVEAUX
Date of Birth: 1994
Born and raised in Toronto, Ontario, Holly Deveaux began taking acting lessons at the age of 13 at the Lewis Baumander Acting Studio and by the time she was 18, she was a part time coach at the studio. Holly began her acting career on stage, playing roles in productions such as The Wizard of Oz, Oklahoma, The Stone Boat and Hank.
At age 15, Holly landed a lead role in the Canadian film Victoria Day (2009), which was part of the 2009 Sundance Fim Festival. In 2010, she was cast in a starring role as Emma Ruby on the Family TV series Baxter. The series only lasted one season, but Holly continued working steadily, with guest appearances on Canadian series such as Murdoch Mysteries, Flashpoint and Cracked. She appeared alongside Anne Heche and Dermot Mulroney in the 2011 telepic Silent Witness, and has played recurring roles on the HBO series Less Than Kind and the Netflix series Hemlock Grove. She currently stars in the CTV sitcom Spun Out alongside Dave Foley.
In 2012, at the age of 19, Holly was cast as accused 26-year-old child murderer Casey Anthony in the Lifetime made-for-TV biopic, Imperfect Justice, but dropped out a week into filming. She has since filmed a supporting role in the independent Canadian film Big Muddy (2015), which screened at the Toronto International Film Festival.
Holly enjoys vacationing at her family's home in Cape Breton, Nova Scotia. She is a proud supporter of Me to We, a program that encourages children and teens to help less fortunate young people around the world. She enjoys bicycling, singing, dancing and playing guitar in her spare time.
Filmography:
The Mist (Netflix) (2017)
Hunter's Moon (2015)
Big Muddy (2015)
Mutant World (2014)
Breakout (2013)
Unlucky (2011)
Victoria Day (2009)
<< back