View Full Site
Hope Davis Bio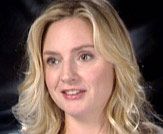 HOPE DAVIS
Date of Birth: March 23, 1964
Born in Tenafly, New Jersey, Hope Davis studied ballet as a teenager, but was advised by her teacher that she'd begun too late to make a career of it. She grew up across the street from Mira Sorvino and together, at the age of eight, they wrote a play called The Dutch Doll. "I played the doll, she was the girl." The play was well received by the neighborhood who wept at the sad tale.
While in high school and college, Davis was inspired by such actresses as Meryl Streep and Ingrid Bergman. "I just thought she (Streep) was so magical and amazing. And before that, it was the lady who played Truly Scrumptious in Chitty, Chitty, Bang, Bang that really inspired me. I've been a film lover all my life, there's so many. Ingrid Bergman ... I would say Ingrid Bergman and Meryl Streep are my favorites."
Davis married at an early age, meeting her first husband, Ford Evanson, when they were 18. The marriage became difficult, and in 1996, after the filming of The Daytrippers, they were divorced.
After graduating from Vassar College with a B.A. in Cognitive Science, Davis studied acting privately in London with teachers from the Royal Shakespeare Company in Chicago. She performed in a number of plays including Speed-the-Plow, Macbeth and Two Shakespearean Actors.
Hope didn¹t get much work in the film industry until 1990 when she was given small roles in such films as Flatliners, Home Alone and Kiss of Death ­- roles she would rather forget. As she continues up the celebrity ladder, she is careful not to forget her roots or let the fame get to her head. Her career received a big boost when she received a Golden Globe nomination and a New York Film Critics Circle Award for her work in American Splendor (2003).
"I think it's almost dangerous to move too quickly and to get too hot too fast, and come out with five movies in a year in film after film after film. I think... it's not so interesting for people that way. It's better to spread it out and if I'm gonna miss a job because I'm doing theater for a few months... then I'm not gonna get more films, then it wasn't really meant to be anyway. I'd rather do what I want to do."
She is married to actor Jon Patrick Walker. They have two children.
Filmography :
Synecdoche, New York (2008)
Genova (2007)
Charlie Bartlett (2007)
The Nines (2007)
Infamous (2006)
The Hoax (2006)
The Matador (2006)
The Weather Man (2005)
Proof (2005)
Duma (2005)
American Splendor (2003)
The Secret Lives of Dentists (2003)
About Schmidt (2002)
Final (2001)
Hearts in Atlantis (2001)
Joe Gould's Secret (2000)
Mumford (1999)
Arlington Road (1999)
Mumford (1999)
The Impostors (1998)
Next Stop Wonderland (1998)
The Myth of Fingerprints (1997)
Mr. Wrong (1996)
The Daytrippers (1996)
Guy (1996)
Kiss of Death (1995)
Home Alone (1990)
Flatliners (1990)

<< back