View Full Site
Hugh Grant Bio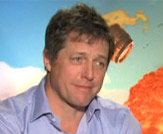 HUGH GRANT
Date of Birth: September 9, 1960
It's fitting to find the roots of Grant's vulnerable, boyish air in a middle class setting of London, England. His father was a carpet salesman and artist, and his mother a teacher. Hugh got his start by performing a British comedy sketch group, The Jockeys of Norfolk. While studying literature at Oxford University, he landed his first acting roll in Privileged at the age of 22. Following the film, he turned to the stage where he set up his own revue. During this time he also worked as a copywriter in London.
At the age of 27 his movie career took flight, when he won best actor at the Venice Film Festival for his performance in Merchant-Ivory's Maurice. Following this, he was cast in roles such as Lord Byron and Chopin.
Grant never seems to take himself too seriously, which made his youthful sophistication in Four Weddings and a Funeral so endearing. The film became a hit in the U.S. and world-wide, making it the most successful British film ever, grossing $320 million. It also won him a Golden Globe award for Best Actor and was listed as one of the top 10 Entertainers of 1994 by Entertainment Weekly. The surprise success made Grant the flavor of the year in Beverly Hills boardrooms.
In 1995, Hugh became the scandal of the year when arrested for lewd conduct in his car with prostitute Divine Brown. He pleaded no contest and received a $1,180 fine and two years probation. Newspapers and television shows around the world covered his troubles. Longtime girlfriend, model/actress Elizabeth Hurley (Austin Powers), was not amused and claimed she would never marry him. The couple has worked together on several movie projects, the latest being 1999's Mickey Blue Eyes, which Hurley co-produced and Grant starred in and co-directed.
The couple eventually broke up for good and Hurley went on to have a child with another man. Grant has been linked romantically to other actresses, but seems to have no desire to settle down. Despite the troubles in the relationship department, Grant has enjoyed roles in several memorable films, most of them romantic comedies. Some of the more memorable titles include Bridget Jones's Diary (2001) with Renee Zellweger, About a Boy (2002) alongside Sharon Small, Love Actually (2003) starring Keira Knightley, and Music and Lyrics (2007) opposite Drew Barrymore. He also voiced the character of The Pirate Captain in Peter Lord's animated feature The Pirates! Band of Misfits (2012). More recently, he starred in The Rewrite (2015), The Man from U.N.C.L.E. (2015) and Florence Foster Jenkins (2016).
Filmography:
Paddington 2 (2018)
Florence Foster Jenkins (2016)
The Man from U.N.C.L.E. (2015)
The Rewrite (2015)
Cloud Atlas (2012)
The Pirates! Band of Misfits (2012)
Did You Hear About the Morgans? (2009)
Music and Lyrics (2007)
American Dreamz (2006)
Travaux, on sait quand ca commence... (2005)
Bridget Jones: The Edge of Reason (2004)
Love Actually (2003)
Two Weeks Notice (2002)
About a Boy (2001)
Bridget Jones' Diary (2001)
Small Time Crooks (2000)
Comic Relief: Doctor Who and the Curse of Fatal Death (1999)
Mickey Blue Eyes (1999)
Notting Hill (1999)
Extreme Measures (1996)
Sense and Sensibility (1995)
Nine Months (1995)
The Englishman Who Went Up a Hill But Came Down a Mountain (1995)
An Awfully Big Adventure (1995)
Restoration (1995)
Four Weddings and a Funeral (1994)
Sirens (1994)
The Remains of the Day (1993)
Night Train to Venice (1993)
Lunes de fiel (1992)
Impromptu (1991)
The Big Man (1990)
The Lair of the White Worm (1988)
The Dawning (1988)
La Nuit Bengali (1988)
Maurice (1987)
Remando al viento (1987)
White Mischief (1987)
Privileged (1982)
<< back