View Full Site
Hugh Jackman Bio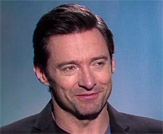 HUGH JACKMAN
Date of Birth: October 12, 1968
Acting was the last thing on Hugh Jackman's mind. Born in Sydney, Australia of English parentage, the youngest of five children, Jackman went to the University of Technology intending to work in journalism.
"During my third year of a university journalism course in I990, I suddenly learned that I had to do two more units in order to graduate. I was in the uni canteen with a friend, looking through the course list, and he said drama was an easy subject. So I said, "Perfect! I'm in."'
That year, the professor decided to have the play, The Memorandum, performed by the class. Jackman was chosen as the lead. At first he found the part daunting. 'I said to the teacher: "I really can't manage to play that part - but I'm happy to be involved backstage."' The teacher wouldn't have it. As Jackman worked through the process, he fell in love with stage and acting.
After obtaining his Bachelor of Arts (Communications), Jackman went on in 1991 to complete the one year course "The Journey" at the Actors' Center in Sydney. He then graduated from the Western Australian Academy of Performing Arts (WAAPA) in 1994.
At WAAPA, Jackman played many and various roles including Romeo in Romeo and Juliet directed by Wayne Harrison, Abette in Tonight We Improvise, Maxim Gorky in Barbarians and Hugh in Translations. He also played a role in the television drama Quarantine produced by Channel 10 Perth.
He was then offered a starring role in the ABC TV prison drama Corelli opposite his future wife Deborra-Lee Furness. Several TV guest roles followed, as an actor and variety compere.
In May 1996, Jackman completed twelve months playing the lead role of Gaston in the Australian Premiere Production of Walt Disney's Beauty and the Beast. For this role, he was nominated for a Mo award for Best Actor in a Musical. He appeared as Joe Gillis in the Australian production of Sunset Boulevard. In 1998 he was cast as Curly in the Royal National Theatre's production of Trevor Nunn's Oklahoma.
Hugh earned an Australian Film Institute nomination for Best Actor in 1999 for Erskineville Kings. In 1998, he starred in the Aussie film, Paperback Hero, a romantic comedy. And in 2000, Hugh landed his first big budget film, the sci-fi summer sizzler, X-Men, playing the comic's most popular character, Wolverine/Logan, a short, quick healing Canuck with a set of strong metal claws who will take on anyone who ticks him off. In 2005, he won an Emmy Award for hosting The 58th Annual Tony Awards. He's also won a 2009 Teen Choice Award for Choice Movie Actor: Action Adventure for X-Men Origins: Wolverine and a 2010 People's Choice Award for Favorite Action Star.
In Kate & Leopold (2001), Hugh showed his versatility as the romantic lead opposite Meg Ryan. He went on to make his Broadway debut playing Peter Allen in The Boy From Oz, for which he won a 2004 Tony Award. He reprised his Wolverine role in X2: X-Men United and X-Men: The Last Stand (2006).
He has since provided the voice of the Easter Bunny in the animated feature Rise of the Guardians (2012) and for his role as Jean Valjean in the big-screen adptation of the stage production Les Misérables (2012), he received a 2013 Academy Award nomination in the Best Actor category.
In 2013 Hugh starred in the action-packed X-Men spinoff The Wolverine (2013). The same year, he appeared in the drama Prisoners (2013) alongside Jake Gyllenhaal, Viola Davis and Melissa Leo. More recently, he played villains in Pan (2015) and Chappie (2015), as well as coach Bronson Peary in the biopic Eddie the Eagle (2016).
Hugh's latest project is the action drama Logan (2017), in which he reprises his role as Wolverine. The film co-stars Patrick Stewart and Boyd Holbrook. He's also slated to appear in The Greatest Showman (2017) and lend his voice to Larrikins (2018).
Hugh and his wife have one son, Oscar, whom they adopted as a baby in May 2000 and a daughter, Ava Eliot Jackman, adopted in July 2005. In 2006 Hugh was chosen as Male Star of the Year at the ShoWest Convention. He's also been one of People magazine's "50 Most Beautiful People in the World" five years in a row and in 2008, was named People Magazine's "Sexiest Man Alive."
Filmography:
Larrikins (2018)
The Greatest Showman (2017)
Logan (2017)
X-Men: Apocalypse (2016)
Eddie the Eagle (2016)
Chappie (2015)
Pan (2015)
X-Men: Days of Future Past (2014)
Prisoners (2013)
The Wolverine (2013)
Movie 43 (2013)
Les Misérables (2012)
Rise of the Guardians (2012)
Butter (2011)
Real Steel (2011)
Snow Flower and the Secret Fan (2011)
X-Men: First Class (2011)
X-Men Origins: Wolverine (2009)
Australia (2008)
Deception (2008)
Happy Feet (2006)
Flushed Away (2006) (voice)
The Prestige (2006)
The Fountain (2006)
Scoop (2006)
X-Men 3: The Last Stand (2006)
Van Helsing (2004)
X-Men 2: X-Men United (2003)
Kate & Leopold (2001)
Swordfish (2001)
Someone Like You... (2001)
X-Men (2000)
Erskineville Kings (1999)
Paperback Hero (1999)
<< back