View Full Site
Ike Barinholtz Bio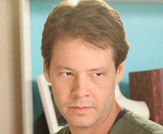 IKE BARINHOLTZ
Date of Birth: February 18, 1977
Isaac "Ike" Barinholtz is an American actor, comedian, voice actor, and screenwriter born in the Rogers Park area of Chicago, Illinois. Ike has a younger brother named Jon, who is also an actor/comedian.
After graduating from high school at The Latin School of Chicago, he planned on a career in politics. He studied at Boston University, but changed his mind, deciding instead to pursue a career as an actor and comedian.
He worked at various jobs, including as a telemarketer, a Chicago Transit Authority employee, and a busboy. Ike was inspired after seeing a comedy show at The Vic Theatre, and began taking comedy classes at The Second City, ImprovOlympic, and Annoyance Theatre.
Ike spent two years in Amsterdam working with the famed comedy group Boom Chicago, which is based in the Netherlands but founded by three comedians from Chicago. Ike is also a founding member of the improv comedy group The Lindbergh Babies.
Ike made his feature film debut in Down (2001) starring Naomi Watts, and joined the cast of MADtv as a featured performer in their eighth season. He was promoted to repertory performer status the following season, and is known for characters such as the Abercrombie & Fitch model Dutch, and Principal Lankenstein from the Coach Hines sketches. In 2007, he decided not to renew his contract for the 13th season, as he was getting "restless" and was not seeing eye to eye with some of his bosses.
He played a supporting role in the 2014 comedy Neighbors alongside Seth Rogan, and reprised his role in the 2016 sequel Neighbors 2: Sorority Rising. On April 8, 2015, Ike got his biggest break to date when he was cast in the DC Comics film Suicide Squad.
His latest films include the animated flick Storks (2016), the comedy Snatched (2017) with Amy Schumer and Goldie Hawn, the drama Felt (2017) with Liam Neeson and Diane Lane, and the sci-fi film Bright (2017) with Will Smith.
On TV, Ike plays a regular role as nurse Morgan Tookers on the comedy series The Mindy Project, and is also a writer and story editor for the series. He lives in Los Angeles, with his producer wife Erica Hanson, whom he married in 2009, and their two daughters named Foster and Payton June.
Filmography:
Mark Felt: The Man Who Brought Down the White House (2017)
Bright (2017)
Felt (2017)
Snatched (2017)
Like Mother, Like Daughter (2017)
Storks (2016)
Suicide Squad (2016)
Central Intelligence (2016)
Neighbors 2: Sorority Rising (2016)
The Angry Birds Movie (2016)
Sisters (2015)
Neighbours (2014)
Inventing Adam (2013)
Vampires Suck (2010)
How to Make Love to a Woman (2010)
Shrink (2009)
Disaster Movie (2008)
Meet the Spartans (2008)
Lock and Roll Forever (2008)
Bunny Whipped (2007)
Twisted Fortune (2007)
Down (2001)
<< back