View Full Site
Isla Fisher Bio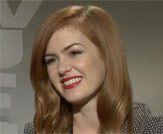 ISLA FISHER
Date of Birth: February 3, 1976
Because of her father's job as a banker for the United Nations, Isla Fisher, who is of Scottish descent, was born in the Middle Eastern country of Oman. A few years after her birth, the family moved to Australia, where she grew up in Perth. At the age of nine, Isla began working as a professional actress, starting first in TV commercials. By the time she was 17, she was playing regular roles in hit Australian TV series such as Paradise Beach and Home and Away.
Fisher took a break to study acting in Paris, then moved to London where she appeared in stage productions, on television and in film, making her debut playing "Australian Girl #1" in the small budget movie Out of Depth (2000). Back in Australia, she played Mary Jane in the major American motion picture Scooby-Doo (2002), starring Sarah Michelle Gellar. On the basis of her work in the film, Fisher landed an American agent and moved to Los Angeles.
She progressively found herself getting larger roles in I Heart Huckabees (2004) starring Mark Wahlberg and Naomi Watts, Wedding Crashers (2005) with Owen Wilson and Vince Vaughn, Definitely, Maybe (2008) opposite Ryan Reynolds and Abigail Breslin and finally, the lead role in Confessions of a Shopaholic (2009). She provided a voice for the animated features Rango (2011), starring Johnny Depp and Rise of the Guardians with Hugh Jackman, Alec Baldwin and Chris Pine. She also appears in The Great Gatsby (2013) alongside Leonardo DiCaprio. More recently, she can be seen in The Brothers Grimsby (2016), Nocturnal Animals (2016), and Keeping Up with Joneses (2016).
The author of two best-selling novels, "Seduced By Fame" and "Bewitched," Fisher is currently working on her first screenplay. She divides her time between in London and Los Angeles and lives with husband, actor Sasha Baron Cohen, and their daughter, Olive Cohen.
Filmography:
Keeping Up with the Joneses (2016)
Nocturnal Animals (2016)
The Brothers Grimsby (2016)
Klown Forever (2015)
Visions (2015)
Life of Crime (2013)
Now You See Me (2013)
The Great Gatsby (2013)
Rise of the Guardians (2012)
Bachelorette (2012)
Rango (2011)
Burke and Hare (2010)
Confessions of a Shopaholic (2009)
Horton Hears a Who! (2008)
Definitely, Maybe (2008)
Hot Rod (2007)
The Lookout (2007)
Wedding Daze (2006)
London (2005)
Wedding Crashers (2005)
I Heart Huckabees (2004)
Criminal Ways (2003)
Scooby-Doo (2002)
The Pool (2001)
Out of Depth (2000)
<< back