View Full Site
J.K. Simmons Bio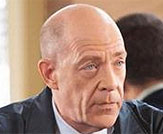 J.K. SIMMONS
Date of Birth: January 9, 1955
Born in Detroit, Michigan, J.K. Simmons was born Jonathan Kimble Simmons. He graduated from the University of Montana and also attended Ohio State University.
His breakthrough on screen came after years of acting, in the HBO prison drama series Oz, playing Vern Schillinger.
After working on Oz, J.K. appeared in a number of popular films and TV projects in the late '90s and early '00s, including The Cider House Rules (1999), Autumn in New York (2000), The Gift (2000), The Mexican (2001), Spider-Man (2002), Law & Order: Special Victims Unit and ER.
J.K. went back to film with Spider-Man 2 (2004) and followed that up with roles in other movies including Thank You for Smoking (2005), Spider-Man 3 (2007), Juno (2007), Jennifer's Body (2009), Contraband (2012) and Labor Day (2013).
In 2015, Simmons won an Academy Award for his supporting role in Damien Chazelle's indie film Whiplash (2014) with Miles Teller. The performance also earned him a Golden Globe, Screen Actors Guild award and BAFTA award.
J.K. has since starred in a number of films, including Terminator Genisys (2015), The Meddler (2015) and Worlds Apart (2015). He also lent his voice to the animated films Zootopia (2016) and Kung Fu Panda 3 (2016).
The actor's latest films include The Accountant (2016), starring Ben Affleck, the musical La La Land (2016), which reunites him with director Damien Chazelle, the true-story drama Patriots Day (2017), starring Mark Wahlberg, the comedies Bastards (2017) and All Nighter (2017), and the animated picture Rock Dog (2017) with Luke Wilson.
In 1996 J.K. married actress/producer Michelle Schumacher, whom he met while doing a tour of the musical Peter Pan. They have two sons together.
Filmography:
Justice League (2017)
All Nighter (2017)
Bastards (2017)
The Lake (2017)
Rock Dog (2017)
Patriots Day (2017)
The Accountant (2016)
Kung Fu Panda 3 (2016)
La La Land (2016)
The Late Bloomer (2016)
The Meddler (2016)
Zootopia (2016)
Break Point (2015)
The Rewrite (2015)
Terminator Genisys (2015)
Labor Day (2014)
Men, Women & Children (2014)
Murder of a Cat (2014)
The Wedding Guest (Barefoot) (2014)
Whiplash (2014)
Dark Skies (2013)
Jobs (2013)
An Invisible Sign (2012)
A Beginner's Guide to Endings (2012)
Contraband (2012)
Crazy on the Outside (2010)
Extract (2009)
I Love You, Man (2009)
Jennifer's Body (2009)
New in Town (2009)
Way of War (2009)
First Snow (2007)
Juno (2007)
Spider-Man 3 (2007)
Thank You For Smoking (2006)
The Ladykillers (2004)
Spider-Man 2 (2004)
Spider-Man (2002)
The Mexican (2001)
The Gift (2000)
Autumn in New York (2000)
The Cider House Rules (1999)
Above Freezing (1998)
Love Walked In (1997)
Extreme Measures (1996)
The First Wives Club (1996)
The Scout (1994)
The Ref (1994)
<< back