View Full Site
Jack Black Bio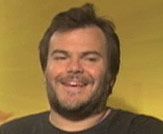 JACK BLACK
Date of Birth: August 28, 1969
Actor, comedian, singer, writer, Jack Black has done it all. Born in Santa Monica, California, he attended UCLA and appeared in Tim Robbin's play Carnage, which was mounted at the Edinburgh Theatre Festival in 1989.
He went on to star as the fanatic fan in Robbin's film Bob Roberts (1992) and returned to work for Robbins in the critically acclaimed drama, Dead Man Walking (1995) playing the younger brother of a death row prisoner, and later on, in Cradle Will Rock (1999).
While performing his stand up comedy routine, Tenacious D, (which also features his band by the same name), director Ben Stiller saw the show, and decided to give Black the role of Rick, the best friend of Matthew Broderick's character in The Cable Guy.
Black has also starred in Mars Attacks! (1996), The Jackal (1997) and Enemy of the State (1998). He completed a role in Jesus' Son and co-starred in the film High Fidelity with John Cusack, winning a Blockbuster Entertainment award for Favorite Supporting Actor—Comedy.
From there, he moved on to a starring role in the feature film Shallow Hal, playing a less-than-attractive man who is only attracted to thin women, so he is hypnotized into falling in love with a 300-pound-woman (played by Gwyneth Paltrow in a "fat suit"). He next slipped back into supporting actor mode, playing the irresponsible brother of Colin Hanks in Orange County (2002). He has also lent his voice to various projects, such as the animated feature films Ice Age (2002) and Shark Tale (2004). In 2003 Black had his biggest success yet with the hit comedy School of Rock, receiving a Golden Globe nomination for his role as a failed rocker who poses as a school teacher. In 2004, he received a ShoWest Special Award as Comedy Star of the Year. His then starred in the title role of an assistant funeral director in Richard Linklater's Bernie (2012). More recently, he lent his voice to the animated film Kung Fu Panda 3 (2016).
On March 14, 2006, Black married Tanya Haden whom he knew from high school. The two reunited years later at a friend's party. Haden is an accomplished cellist and hails from a musical family. Considering that Black is musically talented as well, the couple re-connected. Since their marriage, they have had two sons together—Samuel Jason and Thomas David.
Filmography:
Jumanji (2017)
Kung Fu Panda 3 (2016)
Goosebumps (2015)
The D Train (2015)
Sex Tape (2015)
The Big Year (2011)
Bernie (2011)
Kung Fu Panda 2 (2011)
Gulliler's Travels (2010)
Year One (2009)
Tropic Thunder (2008)
Kung Fu Panda (2008)
Be Kind Rewind (2008)
Walk Hard: The Dewey Cox Story (2007)
Margot at the Wedding (2007)
The Holiday (2006)
Tenacious D in the Pick of Destiny (2006)
Nacho Libre (2006)
King Kong (2005)
Shark Tale (2004)
Anchorman: the Legend of Ron Burgundy (2003)
Envy (2004)
School of Rock (2003)
Run Ronnie Run! (2002)
Ice Age (2002)
Orange County (2002)
Frank's Book (2001)
Shallow Hal (2001)
Saving Silverman (2001)
High Fidelity (2000)
Jesus' Son (1999)
Cradle Will Rock (1999)
Enemy of the State (1998)
I Still Know What You Did Last Summer (1998)
Bongwater (1998)
Johnny Skidmarks (1998)
The Jackal (1997)
Mars Attacks! (1996)
The Fan (1996)
The Cable Guy (1996)
Bio-Dome (1996)
Crossworlds (1996)
Dead Man Walking (1995)
Waterworld (1995)
Bye Bye, Love (1995)
The NeverEnding Story III (1994)
Blind Justice (1994)
Demolition Man
Airborne
Bob Roberts (1992)
<< back