View Full Site
Jake Johnson Bio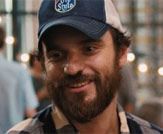 JAKE JOHNSON
Date of Birth: May 28, 1978
Jake Johnson is a film and television actor best known for his roles in the Fox comedy New Girl and films such as No Strings Attached, Drinking Buddies, and 21 Jump Street.
Jake was born in Evanston, Chicago to a single mother. He grew up as a fan of the Second City improv, a comedy theater company based in Chicago that featured comedic talent such as John Belushi and Dan Akroyd.
After graduating from New Trier High School, Jake went on to attend the University of Iowa. During this time, he wrote a play that earned him a spot at NYU's prestigious Tisch School of the Arts. His play, Cousins, went on to be produced by the Ensemble Studio Theater, an off-Broadway New York group.
While studying at NYU, Jake helped start the sketch comedy troupe known as The Midwesterners. Consisting of Jake and his fellow Midwest peers, the group took their shows on tour around the country.
In addition, Jake also worked with the comedy company Upright Citizens Brigade and performed at Second City's L.A. venue.
Jake made his screen acting debut in 2006 with small roles in various TV shows and shorts. A year later, he received a six-episode arc on Derek and Simon: The Show. In the next few years, he continued to book guest starring roles on television shows such as Curb Your Enthusiasm, Life to Me, The Unit, FlashForward and Drunk History.
In 2009, Jake started landing supporting film roles in major motion pictures such as Paper Heart, Get Him To The Greek, Ceremony and No Strings Attached.
In 2011, Jake finally got the biggest break of his career with a regular role in Fox's comedy New Girl as the love interest of Zooey Deschanel's character. The show debuted with massive success, garnering multiple Emmy and Golden Globe nominations.
In 2012, Jake starred alongside Aubrey Plaza and Mark Duplass in the indie film Safety Not Guaranteed. The film follows three magazine employees who interview a man who placed a classified ad seeking a companion for time travel. When it premiered at the Sundance Film Festival, it was nominated for the Grand Jury Prize and took home the Waldo Salt Screenwriting Award.
In 2013, Jake starred in Joe Swanberg's R-rated comedy Drinking Buddies. Co-starring Olivia Wilde, Anna Kendrick and Ron Livingston, the film follows four friends who are caught between the blurred lines of alcohol and romance.
Over the next few years, he worked with Zac Efron and Seth Rogen in Neighbors (2014), Chris Pratt and Bryce Dallas Howard in Jurassic World (2015), and Anna Kendrick and (again) Zac Efron in Mike and Dave Need Wedding Dates (2016).
His latest credits include the animated family film Smurfs: The Lost Village (2017) and the action-packed fantasy flick The Mummy (2017) with Sofia Boutella and Tom Cruise.
Filmography:
The Mummy (2017)
Smurfs: The Lost Village (2017)
Becoming Bond (2017)
Win It All (2017)
Mike and Dave Need Wedding Dates (2016)
Joshy (2016)
Jurassic World (2015)
Digging for Fire (2015)
Let's Be Cops (2014)
Neighbors (2014)
The Lego Movie (2014)
Coffee Town (2013)
The Pretty One (2013)
Drinking Buddies (2013)
21 Jump Street (2012)
Safety Not Guaranteed (2012)
A Very Harold & Kumar 3D Christmas (2011)
No Strings Attached(2011)
Junk (2011)
Ceremony (2010)
Get Him to the Greek (2010)
Redbelt (2008)
<< back