View Full Site
James Badge Dale Bio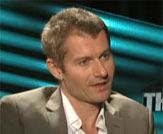 James Badge Dale was born into a family of entertainers. His mother, Anita Morris, was a Tony-nominated actress and his father, Grover Dale, was an actor, director, and choreographer with several Tony and Emmy wins. At the age of 10, junior Dale was offered his first acting job starring as Simon in the on-screen adaptation of Lord of the Flies (1990). In the same year, he was slated to star as the lead in a film called Radio Flyer but the production never made it very far; after just two weeks of filming, the director was fired and James's role was eventually recast to Elijah Wood.
For the next ten years, Dale took a break from acting and worked on and off in construction. It may not have been as glamorous as show business but it was something he enjoyed. "There's a romanticism about it when you're standing on top of a building and the sun is shining and you feel good at the end of the day," he once said. He also spent time playing goalie for his college hockey team but after being forced to take a break from sports because of an injury, he rediscovered his passion for acting and moved to New York to train professionally.
After guest starring on a couple of television shows and appearing in two small movies, Dale was finally offered a gig in 2003 that got him noticed: the recurring role of Chase Edmunds on the popular FOX series 24 alongside Kiefer Sutherland. In 2006, he starred in the Oscar-winning film The Departed, with A-list actors Leonardio DiCaprio, Matt Damon, Jack Nicholson, and Mark Wahlberg. Dale then returned to television starring as a regular on the series The Black Donnellys (2007), The Pacific (2010), and Rubicon (2010).
Having established himself as a talented actor, Dale was later hired to star in several big blockbusters like Shame (2011), with Michael Fassbender, and The Grey (2012), with Liam Neeson. He also stars in two other films being released in 2012, Flight and World War Z, and two for 2013, A Single Shot and The Lone Ranger.
<< back