View Full Site
Jamie Bell Bio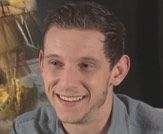 JAMIE BELL
Date of Birth: March 14, 1986
Born in Billingham, England, Jamie Bell comes from a family of dancers, including his grandmother, mother, aunt and sister. When he was small, he would stand outside the door of his sister's dance practices and go through the dance steps along with the class. At six, he began taking lessons himself, starting with tap, after telling his mother that he could do the steps better than some of the girls in his sister's class. Although Jamie at first hid the fact that he was taking dance lessons, by the time he was eight, people found out and he was teased at school. However, he says, "It gave me more determination to prove it wasn't just for girls. It was for boys too."
When he was nine, Jamie decided to try acting as well and landed several roles over the next few years in local stage productions. In 1999, auditions were being held for the lead role a new film called Billy Elliot, the story of a boy who wants to become a ballet dancer, but meets with his family's disappointment. More than 2,000 boys tried out for the role, but Jamie landed it, and when the film came out in 2000, he became an instant star. For his performance, he won numerous awards around the world, including the Best Actor award at the 2001 British Academy Awards, beating out Russell Crowe, Tom Hanks, Michael Douglas and Geoffrey Rush.
After Billy Elliot (2000), Jamie concentrated on schoolwork, but after finishing some important exams at age 16, he returned to the big screen in Deathwatch (2002), and followed that up with the role of Smike in the newest adaptation of Charles Dicken's classic novel, Nicholas Nickleby (2002). He won a Young Artist Award for his performance in the feature film Undertow (2004), then was chosen by director Peter Jackson to play a supporting role as young sailor Jimmy in the blockbuster King Kong (2005). Impressed with his work, Jackson again cast Bell as the title lead in his animated film The Adventures of Tintin (2011), a joint venture with iconic director Steven Spielberg. Bell also stars in the thriller Man on a Ledge (2012). Most recently, he starred in the film Nymphomaniac: Volumes I and II (2014). More recently, she starred in Fantastic Four alongside Miles Teller.
Jamie's favorite type of dancing is tap, for which he has won many awards at various competitions. However, he says he prefers being a professional actor to being a professional dancer.
When Jamie was small, he had an interest in hockey until he was taken to see a game up close and was put off by the violence. He currently is a big baseball fan and collects major league team shirts. In his spare time Jamie likes reading, writing and playing computer games.
<< back