View Full Site
Jamie Foxx Bio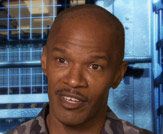 JAMIE FOXX
Date of Birth: December 13, 1967
This Terrell, Texas native was only seven months old when his parents split up, so his grandparents stepped in and adopted him. As a boy, Jamie Foxx was a member of the Boy Scouts of America and sang with the church choir. During high school, his interests turned towards athletics and he became quarterback for his high school team.
Though he studied music in college, his life changed in 1989 when a girlfriend challenged him to get up onstage at the Comedy Club. Jamie's career was launched into overdrive when he was cast on the groundbreaking Fox sketch series In Living Color. Foxx spent three seasons on the show developing a wide array of characters. Jamie also had a recurring role on the critically acclaimed show Roc, in which he played Crazy George.
After In Living Color, he decided to go solo and create his own T.V. series. In 1996, he became the star, co-creator and producer of The Jamie Foxx Show, one of the WB network's most highly-rated shows. The sitcom followed the silly problems of a young man, Jamie King (played by Foxx), who worked in a hotel with Braxton, Fancy, and his uncle.
Jamie's feature film credits include roles in The Great White Hype (1996), The Truth About Cats and Dogs (1996), Any Given Sunday (1999), the comedy Bait (2000), Held Up (2000) and Ali (2001), starring Will Smith, for which Jamie won a 2002 Black Reel Award as Best Supporting Actor and a 2002 Image Award for Outstanding Supporting Actor.
In between films, Jamie still does stand-up comedy. Although he works primarily in television, film and stage, Jamie has kept some time aside to focus on his music. He released an album in 1994, Peep This and sang the theme song for his 1999 movie, Any Given Sunday.
The year 2004 was an outstanding one for Jamie. It suddenly seemed he was everywhere, receiving applause from critics and audiences alike for his work in Collateral (2004) opposite Tom Cruise, in the TV movie Redemption: The Stan Tookie Williams Story (2004) and in the critically-acclaimed motion picture Ray (2004). Nominated for three Golden Globes for those very performances, Jamie won the award for his exceptional portrayal of Ray Charles in Ray (2004). The win was followed up by two 2004 Academy Award nominations: a Supporting Actor nomination for Collateral and a Leading Actor nomination for Ray, winning for the latter.
Although Jamie continues to be in high demand for movie roles, including the comedy Due Date with Robert Downey Jr. and Horrible Bosses with Jason Bateman. He also hosts a popular radio show on Sirius Satellite Radio. He recently lent his voice for the animated film Rio 2 (2014) and starred in The Amazing Spider-Man 2 (2014) alongside Andrew Garfield. He also reprised his role in the sequel Horrible Bosses 2 (2014).
Filmography:
Robin Hood (2018)
Baby Driver (2017)
Sleepless (2017)
Annie (2014)
Horrible Bosses 2 (2014)
A Million Ways to Die in the West (2014)
The Amazing Spider-Man 2 (2014)
Rio 2 (2014)
White House Down (2013)
Django Unchained (2012)
Horrible Bosses (2011)
Rio (2011)
Due Date (2010)
Valentine's Day (2010)
Law Abiding Citizen (2009)
The Soloist (2009)
The Kingdom (2007)
Dreamgirls (2006)
Miami Vice (2006)
Jarhead (2005)
Stealth (2005)
Ray (2004)
Collateral (2004)
Breaking All the Rules (2004)
Shade (2003)
Ali (2001)
Bait (2000)
Held Up (1999)
Any Given Sunday (1999)
The Players Club (1998)
Booty Call (1997)
The Great White Hype (1996)
The Truth About Cats & Dogs (1996)
Toys (1992)
<< back