View Full Site
Jamie Lee Curtis Bio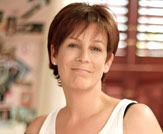 JAMIE LEE CURTIS
Date of Birth: November 22, 1958
"I wouldn't have had a career without Halloween," says this Los Angeles, California native who was once known as the "scream queen" due to her work in horror films. The daughter of Tony Curtis and Janet Leigh, she began working in the '70s in such TV movies as Operation Petticoat, Murder at the World Series and then a TV series spin-off from one of her movies, Operation Petticoat which was pretty bad and didn't last long
It wasn't until 1978 that Curtis began regularly showing up in horror flicks, beginning with Halloween and continuing with The Fog, Prom Night,Terror Train, Road Games and Halloween II.
She managed to pull herself out of the horror swamp and her career was given a tremendous boost after her excellent performance in A Fish Called Wanda.
Says Curtis: "I've never been particularly competitive about parts. I've never lobbied for one. I'm fairly sane about the way I get work. I'm fairly comfortable about the way work comes to me. When it stops coming, I will stop looking for it. I once believed, quite incorrectly, that something would change when I had success. Absolutely nothing changed, except that I got more famous. Your work as an actor will not change your life."
In 2004 she was nominated for a Golden Globe for her comedic turn as a mother who switches bodies with her teenage daughter in Freaky Friday (2003).
She has been married to director/actor Christopher Guest since 1984, whom she met after seeing his picture on a magazine cover and giving her phone number to his agent. The couple have two adopted children— Annie and Thomas. Curtis is also now Baroness, Lady Haden-Guest after her husband inherited a Barony in 1996. She received a Star on the Walk of Fame on September 3, 1998.
In 2010, she told AARP The Magazine that she would never have cosmetic surgery despite pressure in Hollywood to do so, saying that she would retire before it came to the point where she was no longer getting acting jobs.
Filmography:
Spare Parts (2015)
From Up On Poppy Hill (2013)
You Again (2010)
Beverly Hills Chihuahua (2008)
Christmas with the Kranks (2004)
Freaky Friday (2003)
Halloween: Resurrection (2002)
Daddy and Them (2001)
The Tailor of Panama (2001)
Drowning Mona (2000)
Virus (1999)
Halloween: H20 (1998)
Homegrown (1998)
Fierce Creatures (1997)
House Arrest (1996)
Ellen's Energy Adventure (1996) [uncredited]
True Lies (1994)
My Girl 2 (1994)
Mother's Boys (1993)
Forever Young (1992)
My Girl (1991)
Queens Logic (1991)
Blue Steel (1990)
Dominick and Eugene (1988)
A Fish Called Wanda (1988)
Un homme amoureux (1987)
Amazing Grace and Chuck (1987)
Perfect (1985)
Grandview, U.S.A. (1984)
Trading Places (1983)
Love Letters (1983)
Coming Soon (1982)
Escape from New York (1981)
Halloween II (1981)
Road Games (1981)
Terror Train (1980)
Prom Night (1980)
The Fog (1980)
Halloween (1978)
<< back