View Full Site
Jared Leto Bio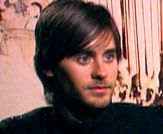 JARED LETO
Date of Birth: December 26, 1971
Jared Leto always knew he wanted to work in a creative field. Born in Bossier City, Louisiana, he showed an enterprising and self-reliant streak from an early age. At 12, he took his first job, washing dishes at a barbecue stand in Virginia. He became a doorman at the age of 16. Ultimately, he enrolled at the University of the Arts in Philadelphia to study painting before transferring to the School of Visual Arts in New York. He moved to Los Angeles from New York in 1992 to pursue a career in acting. His determination to take risks and gamble on his own creativity can be traced to his upbringing by his mother, who encouraged Leto and his brother to get involved in the arts.
Born on a Louisiana bayou, Leto traveled extensively with his family, living in such places as Haiti and on a commune in Colorado. "My mom's father was in the Air Force," Leto explains, "so moving around a lot was a normal way of life."
Leto has already amassed some solid film credits, but it is still his role as Jordan Catalano on the short-lived but much loved television series My So-Called Life (opposite Claire Danes) that he is remembered for. As the gorgeous infatuation of Claire Danes' character, he also became the infatuation of teenage girls across America. When the series was cancelled, he started working in film.
Leto's first big screen role was How to Make an American Quilt(1995). More work followed in The Last of the High Kings (1996), in which he co-starred with Christina Ricci, and in Switchback (1997), opposite Danny Glover and Dennis Quaid. Leto then took over a part once destined for Tom Cruise in the Cruise-produced Prefontaine (1997), the story of legendary runner Steve Prefontaine. Unfortunately,the film was largely ignored. He then appeared in Terrence Malick's The Thin Red Line as part of a powerhouse cast including Nick Nolte, George Clooney, and Sean Penn. In addition, he had a major role in Urban Legend, one of the more successful exploitations of the teen horror genre.
Leto played a two-bit punk in the Panic Room (2002), starring Jodie Foster. His leading role as Hephaestion in the epic Alexander (2004) opposite Colin Farrell and Angelina Jolie did't bring a much-needed boost to his career. He continued to work in small budget films as well as touring with his band, 30 Seconds to Mars.
In 2013, Jared Leto gave an award-winning performance in Dallas Buyers Club as Rayon, a transgender woman who is also HIV-positive. This role earned him not only an Academy Award but also the Critics' Choice, Golden Globe and SAG Best Supporting Actor awards. He can most recently be seen as The Joker in the antihero flick Suicide Squad (2016).
Filmography:
Suicide Squad (2016)
Dallas Buyers Club (2013)
Artifact (2012)
Mr. Nobody (2010)
Chapter 27 (2007)
Lonely Hearts (2006)
Lord of War (2005)
Alexander (2004)
Panic Room (2002)
Highway (2001)
Black and White (2000)
American Psycho (2000)
Requiem for a Dream (2000)
Sunset Strip (2000)
Girl, Interrupted (1999)
Fight Club (1999)
The Thin Red Line (1998)
Urban Legend (1998)
Basil (1998)
Switchback (1997)
Prefontaine (1997)
The Last of the High Kings (1996)
How to Make an American Quilt (1995)
<< back