View Full Site
Jason Schwartzman Bio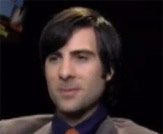 JASON SCHWARTZMAN
Date of Birth: June 26, 1980
This Los Angeles native has entertainment running through his veins. His brother and mother are both actors, his father is a producer, his uncle is director Francis Ford Coppola and his cousin is actor Nicholas Cage. Attending Windward School in Los Angeles, Schwartzman took in his first audition at age 18. Beating out almost a thousand other hopefuls, Schwartzman landed the lead role of the chronic overachiever Max Fischer in the comedy Rushmore (1998). His performance impressed both viewers and critics alike and received a number of awards.
Although his award-winning performance put him in the Hollywood spotlight, Schwartzman did not take advantage of it. Instead he kept a low profile, finishing school and opting to spend time with his first love, music. Using the money earned from the film, he got down to work playing drums for his band Phantom Planet, which recorded an album for Epic Records. Keeping with his geek-chic nature, he also chose small, quirky roles in television, such as his guest appearance on the short-lived series Freaks and Geeks and working on spoofs for the 1999 MTV Movie Awards.
At the turn of the century, Schwartzman returned to his feature film career in a big way, starring in films like C.Q., Slackers, Spun, Simone (all 2002) and Just Like Mona (2003). In 2004 he took on the lead role in the Fox sitcom Cracking Up, but continued to act in films such as I Heart Huckabees (2004) with Jude Law and Naomi Watts; Shopgirl (2005), written by and co-starring Steve Martin; Scott Pilgrim vs. the World (2010) with Michael Cera; and Moonrise Kingdom (2012) alongside Bruce Willis, Edward Norton and Bill Murray. More recently, he starred in Big Eyes (2014).
Besides acting and music, Schwartzman likes to write plays, has written and directed short films and enjoys writing poetry. He married clothing designer Brady Cunningham on July 11, 2009.
Filmography:
Big Eyes (2014)
Moonrise Kingdom (2012)
The Grand Budapest Hotel (2014)
Listen Up Philip (2014)
Saving Mr. Banks (2013)
Scott Pilgrim vs. the World (2010)
Fantastic Mr. Fox (2009)
The Marc Pease Experience (2009)
Funny People (2009)
Walk Hard: The Dewey Cox Story (2007) (uncredited)
The Darjeeling Limited (2007)
Hotel Chevalier (2007)
Marie-Antoinette (2006)
Shopgirl (2005)
Bewitched (2005)
Everything is Illuminated (2005)
I Heart Huckabees (2004)
Just Like Mona (2003)
CQ (2002)
Simone (2002)
Slackers (2002)
Spun (2002)
Rushmore (1998)
<< back