View Full Site
Jason Statham Bio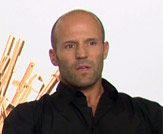 JASON STATHAM
Date of Birth: September 12, 1967
English born, Syndenham, London raised, Statham is the second son of a dancer and a lounge singer. Although he had artistic talent running through his veins, he instead focused on his athletic abilities at the high dive. His diving abilities were so impressive that he joined the British Olympic team in 1988 in Seoul, Korea. After 10 years in the National Diving Squad, a talent agent led him to the modeling industry.
His modeling career doubled for his work on the street as a salesman of stolen and fake goods. "I was a sort of fly pitcher street corner con man who sold jewellery and perfume out of a briefcase for many years." Interestingly enough, this is how he met director Guy Ritchie who ended up launching his career in the Indie hit, Lock, Stock and Two Smoking Barrels. Guy had been convinced by Statham to buy his worthless merchandise, and when he tried to return it, Statham was so graciously inflexible that Ritchie hired him. "When he met me, he had written Lock Stock and had a part that was pretty much bang on to me. He wanted an authentic kind of character, and that was me, because they don't teach you that kind of thing in drama school."
Following his work in the film playing Bacon, Ritchie rehired him to play Turkish in the hit film Snatch. With little experience and no formal training, Statham depended on Ritchie and his fellow actors to give him a helping hand at times. "They let you know you are doing the right thing and Guy lets you know you are doing the right thing and you develop a confidence and it grows from there. By the time I did Snatch, I kind of knew what I was doing. I mean, I understood about hitting my cue, remembering my lines, and I got the feeling that nothing can stop you."
By the start of the new millennium, Statham had done enough work to pave his way into superstardom. Along with the success of Snatch, he made his American film debut as a British drug dealer in Turn It Up (2000), landed a starring role in John Carpenter's sci-fi thriller Ghosts of Mars (2001) and joined the cast of The Italian Job (2003).
But it was his starring role in the hit film The Transporter (2002) that shot him to leading man status, earning him a salary of $750,000. He followed it up with two sequels. He's since appeared in other action films such as The Expendables (2010) with Sylvester Stallone and Killer Elite (2011). He also provided the voice of Tybalt in the animated feature Gnomeo & Juliet (2011). Statham was seen in the thriller Safe (2012) and reprised his role as Lee Christmas for The Expendables 2 (2012). The action star also appeared in Parker (2013) with Jennifer Lopez.
His recent projects include Furious 7 (2015), Mechanic: Resurrection (2016), and The Fate of the Furious (2017).
Filmography:
The Expendables 4 (2018)
Meg (2018)
The Fate of the Furious (2017)
Mechanic: Resurrection (2016)
Furious 7 (2015)
Spy (2015)
Wild Card (2015)
The Expendables 3 (2014)
Redemption (2014)
Hummingbird (2013)
Homefront (2013)
Parker (2013)
The Expendables 2 (2012)
Safe (2012)
Killer Elite (2011)
Blitz (2011)
Gnomeo & Juliet (2011) (voice)
The Mechanic (2011)
The Expendables (2010)
13 (2010)
Crank: High Voltage (2009)
Transporter 3 (2008)
Death Race (2008)
The Bank Job (2008)
War (2007)
In the Name of the King: A Dungeon Siege Tale (2006)
Crank (2006)
The Pink Panther (2006)
Revolver (2005)
London (2005)
Transporter 2 (2005)
Chaos (2005
Cellular (2004)
Collateral (2004)
The Italian Job (2003)
The Transporter (2002)
Mean Machine (2001)
The One (2001)
Ghosts of Mars (2001)
Turn It Up (2000)
Snatch (2000)
Lock, Stock and Two Smoking Barrels (1998)

<< back