View Full Site
Jason Sudeikis Bio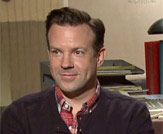 JASON SUDEIKIS
Date of Birth: September 18, 1975
Jason Sudeikis was born in Fairfax, Virginia and grew up in Overland Park, Kansas. Attending junior college on a basketball scholarship, he was a class clown and admitted procrastinator who dribbled in and out of trouble. He began his path in show business by taking classes at the ComedySportz Theater (now Comedy City) in Kansas City before leaving basketball and college for Chicago, where he performed with The Second City National Touring Company, Improv Olympic, The Annoyance Theater, and Boom Chicago in Amsterdam. He then moved to Nevada and was a founding member of The Second City Las Vegas. In 2003, Sudeikis was encouraged by his uncle, George Wendt, to send a tape of his work to the producers of NBC's live sketch comedy show Saturday Night Live, who hired him as a staff writer. After two years and many auditions, he found himself on camera and never looked back.
In addition to starring in six seasons of SNL, Sudeikis received rave reviews for his arc on NBC's Emmy Award-winning 30 Rock, appearing in 12 episodes, to date, as Tina Fey's charmingly funny love interest, Floyd. He also provided the voice of two principle characters on Fox's hit animated comedy series The Cleveland Show, created by Seth MacFarlane. Sudeikis also recently guest-starred on the fan-favorite It's Always Sunny in Philadelphia as Smitty, the long-forgotten fourth member of the Paddy's gang.
On the big screen Jason starred alongside Jennifer Aniston and Gerard Butler in The Bounty Hunter; appeared in Going the Distance opposite Drew Barrymore and Justin Long; and played Mason in What Happens in Vegas with Cameron Diaz and Ashton Kutcher. In 2011 he starred alongside Owen Wilson in Hall Pass and with Jason Bateman, Colin Farrell and Jennifer Aniston in Horrible Bosses. He was also seen in the 2012 Jay Roach comedy The Campaign alongside Will Ferrell and Zach Galifianakis and more recently, in the comedy flick We're The Millers (2013) starring Jennifer Aniston. He also reprised his role in the sequel Horrible Bosses 2 (2014). More recently, he starred in Race (2016), Mother's Day (2016), Masterminds (2016), The Book of Love (2017) and Colossal (2017).
Jason is actively involved with The Children's Mercy Hospital, as well as other charities.
Filmography:
Downsizing (2017)
Colossal (2017)
The Book of Love (2017)
The Angry Birds Movie (2016)
Masterminds (2016)
Mother's Day (2016)
Race (2016)
Tumbledown (2016)
Sleeping With Other People (2015)
Horrible Bosses 2 (2014)
Epic (2013)
We're the Millers (2013)
The Campaign (2012)
A Good Old Fashioned Orgy (2011)
Hall Pass (2011)
Horrible Bosses (2011)
The Bounty Hunter (2010)
Going the Distance (2010)
What Happens in Vegas (2008)
<< back