View Full Site
Javier Bardem Bio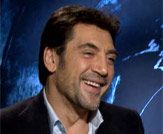 JAVIER BARDEM
Birth Name: Javier Encinas Bardem
Date of Birth: March 1, 1969
Born into a long line of moviemakers, from actress mother Pilar Bardem and actor grandfather, Rafael Bardem, to director uncle, Juan Antonio Bardem, it's not surprising to find Javier, his brother Carlos and their sister Monica entering the same profession. Growing up in Gran Canaria, Spain, he got his first taste of film making when barely out of his teens with a small role in The Ages of Lulu (1990).
Only two years later he achieved international success for his work in Jamon, jamon (1992), receiving a Best Actor Award from the Spanish Actors Union, Fotogramas, and the Saint Jordi award.
In 1994, his work earned him more accolades, including the Fernando Rey Award, the Spanish Actors Union, the Punta del Este Festival in Uruguay, and San Sebastian's Silver Seashell. The rest of the '90s saw Bardem achieving more awards including two Goya Awards, a European Film Award and a Volpi Cup.
Ringing in the new millennium hasn't slowed his success. After completing Before Night Falls, playing the lead character, Cuban poet Reinaldo Arenas who dies of AIDS in New York City, he received nominations from both the Golden Globes and the Academy Awards for Best Actor.
For Mondays in the Sun (2003), he won an award from the Spanish Actors Union in 2003 for Male Lead Film Performance, a Goya Award for Best Lead Actor, and a Cinema Writers Circle Award for Best Actor in his native Spain. His performance in The Sea Inside (2004) won him many awards, including Best Actor at the Venice Film Festival and a Golden Globe nomination. He won his first Golden Globe Award in 2008, for his portrayal of a ruthless killer in No Country for Old Men (2007), as well as an Academy Award and a BAFTA. In 2007, Bardem's life's work was recognized by the Independent Feature Project and honored by the Gotham Awards. In 2012, Bardem landed the role of a lifetime playing the villain in the 23rd installment of the James Bond film franchise, Skyfall. More recently, he starred in The Gunman (2015) and Pirates of the Caribbean: Dead Men Tell No Tales (2017).
When not working, he makes his home in Madrid. Bardem married fellow Oscar winner Penélope Cruz in July 2010 after two years of dating.
Bio photo: ©Jesse Grant/Getty Images
Filmography:
Pirates of the Caribbean: Dead Men Tell No Tales (2017)
The Last Face (2016)
The Gunman (2015)
The Counselor (2013)
Skyfall (2012)
To the Wonder (2012)
Eat Pray Love (2010)
Biutiful (2011)
Eat Pray Love (2010)
Vicky Cristina Barcelona (2008)
Love in the Time of Cholera (2007)
No Country for Old Men (2007)
Goya's Ghosts (2007)
The Last Face (2005)
The Sea Inside (2004)
Collateral (2004)
Mondays in the Sun (2003)
The Dancer Upstairs (2003)
Before Night Falls (2000)
Segunda piel (1999)
Washington Wolves (1999)
Between Your Legs (1999)
Torrente, the Stupid Arm of the Law (1998)
Dance with the Devil (1999)
Live Flesh (1998)
Airbag (1997)
Love Can Seriously Damage Your Health (1996)
Not Love, Just Frenzy (1996)
Ecstasy (1996)
La Madre (1995)
Mouth to Mouth (1995)
The Detective and Death (1994)
Numbered Days (1994)
The Tit and the Moon (1994)
Golden Balls (1993)
The Bilingual Lover (1993)
Huidos (1992)
Jamón, jamón (1992)
Amo tu cama rica (1991)
High Heels (1991)
The Ages of Lulu (1990)
<< back