View Full Site
Jeffrey Wright Bio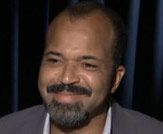 JEFFREY WRIGHT
Date of Birth: December 7, 1965
Jeffrey Wright was born and raised in Washington, D.C. He studied political science at Amherst College and intended to become a lawyer until his interests turned to acting in his senior year.
Over a short period of time, Wright accomplished a variety of roles in both stage and film. In the Broadway production of Angels in America, Wright played the tough, flamboyant male nurse Belize and won Drama Desk, Outer Critics Circle and Tony awards for his performance. Theatergoers also remember Wright in the key speaking role of Da Voice in Bring in da Noise, Bring in Da Funk and as The Fool in the New York Shakespeare Festival production of King Lear.
His first film hit came in 1996 with the acclaimed film Basquiat. Playing the lead role of Jean Michel Basquiat, his performance and the film were praised by critics and nominated for numerous awards.
After working with Woody Allen in the film Celebrity, Wright landed lead roles in films such as Ride with the Devil, Crime and Punishment in Suburbia, Shaft as well as solid parts in Hamlet playing the Gravedigger and D-Tox starring Sylvester Stallone. For his role as Martin Luther King Jr. in the TV movie Boycott (2001), Wright won an AFI Award.
Television guest appearances include The Young Indiana Jones Chronicles, New York Undercover and Homicide: Life on the Street.
In 2004 his career took a huge leap forward when he won a Golden Globe and a Black Reel award for his supporting role in the TV mini-series, Angels in America, and kept on growing with roles in major films such as The Manchurian Candidate (2004), Lady in the Water (2005) and the Bond film, Casino Royale (2006). Wright has continued to land roles in big films alongside A-list stars like George Clooney and Ryan Gosling in The Ides of March (2011), Tom Hanks and Sandra Bullock in Extremely Loud & Incredibly Close (2011) and Mark Wahlberg and Russell Crowe in Broken City (2013). He appeared in the thriller, A Single Shot (2013) and in The Hunger Games: Mockingjay - Part 1(2014). More recently, he starred in The Hunger Games: Mockingjay - Part 2 (2015).
Wright married actress Carmen Ejogo in August 2000. They have one child together.
Filmography:
The Hunger Games: Mockingjay - Part 2 (2015)
The Hunger Games: Mockingjay - Part 1(2014)
A Single Shot (2013)
Broken City (2013)
Extremely Loud & Incredibly Close (2011)
The Ides of March (2011)
Source Code (2011)
Quantum of Solace (2008)
Cadillac Records (2008)
W. (2008)
Little Scarlet (2008)
One Blood (2008)
Blackout (2007)
The Invasion (2007)
Casino Royale (2006)
Lady in the Water (2006)
Expats (2005)
Syriana (2005)
Broken Flowers (2005)
Sin's Kitchen (2004)
The Manchurian Candidate (2004)
D-Tox (2002)
Ali (2001)
Shaft (2000)
Hamlet (2000)
Crime and Punishment in Suburbia (2000)
Cement (1999)
Ride with the Devil (1999/I)
Sin's Kitchen (1999)
Too Tired To Die (1998)
Meschugge (1998)
Celebrity (1998)
Critical Care (1997)
Faithful (1996)
Basquiat (1996)
Jumpin' at the Boneyard (1991)
Presumed Innocent (1990)

<< back