View Full Site
Jennifer Lawrence Bio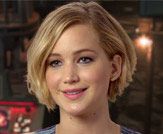 JENNIFER LAWRENCE
Date of Birth: August 15, 1990
Born and raised in Louisville, Kentucky, Jennifer Lawrence began acting in film and television at the age of 14.
In 2010, she was named one of the New York Times' "50 People to Watch." Early TV credits include guest appearances on Monk, Cold Case and Medium. She went on to play a regular role on the third season of the TBS series The Bill Engvall Show.
In 2008 she played opposite Charlize Theron and Kim Basinger in Guillermo Arriaga's directorial debut The Burning Plain. The film premiered at the 65th Venice Film Festival, where Jennifer won the "Marcello Mastroianni Award for Best Young Actress or Actor." Some of her other 2008 film credits include the lead role in Lori Petty's The Poker House opposite Selma Blair, for which she was awarded the prize of "Outstanding Performance in the Narrative Competition" at the 2008 Los Angeles Film Festival. She also starred in Garden Party opposite Vinessa Shaw.
In 2010, she was nominated for an Oscar for her work in the indie drama Winter's Bone and also played supporting roles in The Beaver (2011) alongside Mel Gibson and the role of Raven/Mystique in X-Men: First Class (2011). It was when she landed the role of a lifetime—the lead part of Katniss Everdeen in the big-screen adaptation of the best-selling young adult novel, The Hunger Games (2012)—that she shot to superstardom.
Some of Jennifer's other mentionable titles include the horror film House at the End of the Street (2012) and Silver Linings Playbook (2012), which premiered at the 2012 Toronto International Film Festival and for which she won a Best Actress Academy Award. She received a third Academy Award nomination, this time in the supporting actress category, for her work in American Hustle (2013).
Jennifer appeared in the 2013 sequel
The Hunger Games: Catching Fire
and then starred in
The Hunger Games: Mockingjay - Part 1
(2014)and
The Hunger Games: Mockingjay - Part 2
(2015). She has since starred in
Joy
(2015), for which she won her third Golden Globe award. This film also earned her an Academy Award nomination. Most recently, she reprised her role as Raven/Mystique in
X-Men: Apocalypse
(2016) and starred alongside Chris Pratt in the sci-fi romance
Passengers
(2016).
Filmography:
Passengers (2016)
X-Men: Apocalypse (2016)
Joy (2015)
The Hunger Games: Mockingjay - Part 2 (2015)
The Hunger Games: Mockingjay - Part 1 (2014)
X-Men: Days of Future Past (2014)
American Hustle (2013)
The Hunger Games: Catching Fire (2013)
Serena (2013)
House at the End of the Street (2012)
Silver Linings Playbook (2012)
The Hunger Games (2012)
Devil You Know (2012)
X-Men: First Class (2011)
The Beaver (2011)
Like Crazy (2011)
Winter's Bone (2010)
The Burning Plain (2008)
The Poker House (2008)
Garden Party (2008)
<< back