View Full Site
Jenny Slate Bio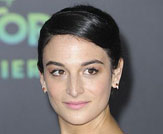 JENNY SLATE
Date of Birth: March 25, 1982
Born in Massachusetts, Jenny Slate helped form the improv group Fruit Paunch while attending Columbia University. During that time, she met comedian Gabriel "Gabe" Liedman and created the comedy duo Gabe & Jenny. Their show Big Terrific was called the best new variety show of 2008 by Time Out New York. She also regularly performed her one woman show, Jenny Slate: Dead Millionaire in New York City during 2008 to 2009.
Jenny made appearances on Late Night with Jimmy Fallon and had some infamy after she starred on Saturday Night Live from 2009 to 2010 and dropped the F-bomb on her first sketch.
Jenny had the chance to work on her own project in 2010, co-writing and voicing the stop-motion short film Marcel the Shell with Shoes On, directed by her future husband, Dean Fleisher-Camp. The movie about a shy, shoe-wearing sea shell received viral success, leading to a sequel called Marcel the Shell with Shoes on, Two, released November 14, 2011, along with a book titled Marcel The Shell With Shoes On: Things About Me.
As well as appearing in television series such as Bored to Death, Girls, Raising Hope and Parks and Recreation, Jenny has also lent her voice to the movie The Lorax and the popular television show Bob's Burgers. More recently, she lent her voice to the animated films Zootopia (2016), and The Secret Life of Pets (2016).
Jenny's starring role in the film Obvious Child, which screened at the 2014 Sundance Film Festival, garnered her some attention. The film was subsequently picked up for a limited North American release.
In 2016, she lent her voice to the animated film The Secret Life of Pets and starred in the comedy Joshy.
Her latest project is the drama Gifted (2017), in which she shares the screen with Chris Evans and Octavia Spencer.
Jenny married filmmaker Dean Fleisher-Camp on September 15, 2012 after moving to Los Angeles, but they have since split. After co-starring with Captain America star Chris Evans in Gifted (2017), they dated for a while, but have since called it off.
Filmography:
Despicable Me 3 (2017)
Landline (2017)
Gifted (2017)
Joshy (2016)
The Secret Life of Pets (2016)
Zootopia (2016)
The Longest Week (2014)
Obvious Child (2014)
The Lorax (2012)
This Means War (2012)
Alvin and the Chipmunks: Chipwrecked (2011)
<< back