View Full Site
Jesse Eisenberg Bio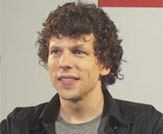 JESSE EISENBERG
Date of Birth: October 3, 1983
Jesse Eisenberg was born in New York City and raised in Queens and New Jersey. He attended the Frost and Hammarskjold schools in East Brunswick, New Jersey, and spent a year at East Brunswick High School before switching to a performing arts school in New York. He did children's theater while growing up as a way to avoid going to school, and landed a role in the film Roger Dodger (2002) in his senior year of high school. Eisenberg doubts he would have chosen to pursue an acting career had he not done that film, saying, "I don't think I am brave enough to pursue something so unpredictable, but I got lucky and decided to try and capitalize on it." He studies liberal arts at the New School University, focusing on Democracy and Cultural Pluralism.
Eisenberg quickly became a busy film actor. He starred in The Education of Charlie Banks (2007) and appeared in films such as The Hunting Party (2007), One Day Like Rain (2007), and M. Night Shyamalan's The Village (2004). He received rave reviews for his portrayal of Walt Berkman in the independent film The Squid and the Whale (2005) and was nominated in 2006 for the Independent Spirit Best Supporting Actor award and the Broadcast Film Critics' Best Young Actor Award. The roles just kept pouring in for Eisenberg. But in 2010, he landed a part that arguably marked his career. He played the iconic role of Mark Zuckerberg, the creator of Facebook, in The Social Network. The role earned him his first Oscar nomination for Best Performance by an Actor in a Leading Role. Following The Social Network, Eisenberg starred in the comedy 30 Minutes or Less (2011) followed by Woody Allen's To Rome with Love (2012). He then starred in (2015) and The End of the Tour (2015) . In 2016, took on the role of supervillain Lex Luthor in Batman v Superman: Dawn of Justice (2016). He also starred in the magical sequel Now You See Me 2 (2016), and the Woody Allen dramedy Café Society (2016).
He is interested in world politics, having traveled in Asia, Eastern Europe, and Latin America. Eisenberg is also interested in writing plays, has played the drums since he was a young child, and created OneUpMe.com, the retired wordplay website.
<< back