View Full Site
Joan Cusack Bio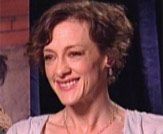 JOAN CUSACK
Date Of Birth: October 11, 1962
Among the ranks of Hollywood character actors, Joan Cusack provides consistently brilliant performances who never fails to win raves from critics, and yet remains largely unknown to mainstream moviegoers. Though she's been making films for almost 30 years, and even boasts two Oscar nominations, Joan is more likely recognized as the big sis of popular actor John Cusack than for any of her fine screen performances.
If there's such a thing as an acting gene, Cusack's parents most definitely had it, and they passed it on to their children. Her father (Dick Cusack) and all four of her siblings (Susie, John, Ann and Bill) are professional actors, all of which have appeared in at least three feature films. Yet Joan did not have a Hollywood upbringing. Born in New York, Cusack was reared in a strongly Roman Catholic household in the Chicago suburb of Evanston. Her parents wanted their children to have a sense of social responsibility and encouraged them to participate in such enlightening experiences as volunteering at soup kitchens.
Movies were also an important staple of the Joan's upbringing. The comedies of Mel Brooks and Monty Python, in particular, helped her develop a pronounced comedic flair. She has very few fond memories of high school, yet her creative energies blossomed during those years through the training she undertook at Evanston's Piven Theater Workshop, where both she and brother John received tutelage.
Joan was 18 when she won her first feature film role, a bit part in My Bodyguard. Small appearances in such classic '80s teen flicks as Sixteen Candles and Grandview, U.S.A. followed over the course of the next several years. Joan would also devoted herself to studying English at Wisconsin University, during this period of her life, where she sharpened her humorous instincts as a member of the Ark, an improv comedy troupe.
Her one year exposure on Saturday Night Live helped her land her first big film role, playing second banana to Holly Hunter, in director James L. Brooks' acclaimed newsroom farce Broadcast News. She scored one of the movie's biggest laughs, when she confided to Holly, "Except for socially, you're my role model." Her next major role was equally sharp in Working Girl as a wisecracking office-pool compadre. For this performance she received her first Oscar nomination for best supporting actress.
After years of disappointing films, Joan decided it was time for her personal life to take precedence over her professional career, so she moved back home to Chicago. As she explained to one interviewer, "I have a passion to be happy and balanced, to have a life that's meaningful outside of work. I decided I needed a stable place that was normal." Soon after the relocation, Joan made a bold departure from her standard supportive-friend persona by taking on the part of a voluptuous, gold-digging nanny with designs on an unsuspecting Uncle Fester (Christopher Lloyd) in 1993's Addams Family Values.
Joan married corporate attorney Richard Burke in 1993, and movie-making went on the backburner for a time. In June of 1997, Joan gave birth to her first child Dylan John Burk. In this same year, Cusack's acting career came roaring to life again with films like Gross Pointe Blank, A Smile like Yours and In and Out. For the latter, she received her second Oscar nomination.
Her second son, Miles, was born in July 2000. Since then she has starred in her own (but short-lived) sitcom (2001/2002) and currently stars on the successful and critically acclaimed Showtime series Shameless. On the big screen, her films include Kit Kittredge: An American Girl (2008) and My Sister's Keeper (2009). She also lent her voice to many animated features such as Toy Story 3 (2010) and Hoodwinked Too: Hood vs. Evil (2011). In 2015, she starred in Welcome To Me and she is set to appear in 2016's Popstar: Never Stop Never Stopping.
Filmography:
Popstar: Never Stop Never Stopping (2016)
Welcome to Me (2015)
The Perks of Being a Wallflower (2012)
Arthur Christmas (2011)
Mars Needs Moms! (2011)
Hoodwinked Too! (2010)
Toy Story 3 (2010)
My Sister's Keeper (2009)
Confessions of a Shopaholic (2009)
Kit Kittredge: An American Girl (2008)
War, Inc. (2008)
Martian Child (2007)
Friends with Money (2006)
Chicken Little (2005)
Ice Princess (2005)
The Last Shot (2004)
Raising Helen (2004)
Looney Tunes: Back in Action (2003)
The School of Rock (2003)
Where The Heart Is (2000)
High Fidelity (2000)
Toy Story 2 (1999)
Arlington Road (1999)
Cradle Will Rock (1999)
Runaway Bride (1999)
A Smile Like Yours (1997)
Grosse Pointe Blank (1997)
In & Out (1997)
Mr. Wrong (1996)
Two Much (1995)
Nine Months (1995)
Corrina, Corrina (1994)
Addams Family Values (1993)
Toys (1992)
Hero (1992)
The Cabinet of Dr. Ramirez (1991)
Men Don't Leave (1990)
My Blue Heaven (1990)
Say Anything... (1989)
Married to the Mob (1988)
Stars and Bars (1988)
Working Girl (1988)
The Allnighter (1987)
Broadcast News (1987)
Sixteen Candles (1984)
Grandview, U.S.A. (1984)
Class (1983)
Cutting Loose (1980)
My Bodyguard (1980)
<< back