View Full Site
Joaquin Phoenix Bio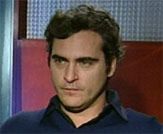 JOAQUIN PHOENIX
Date of Birth: October 28, 1974
Joaquin Phoenix was born in Puerto Rico as the middle child of parents who gave their children anything but a traditional upbringing. His parents joined a cult-like sect of soul searchers known as Children of God and moved around in South America and the Caribbean islands acting as missionaries before finally settling back in Los Angeles where they determined their children's future was in the movies.
Joaquin's older brother River was the most successful of the Phoenix clan until his death in 1993 from a drug overdose (Joaquin made the 911 call)—and until Joaquin (once known as "Leaf")—broke big in the movie To Die For playing Nicole Kidman's teenaged lover and assassin. About that role, he once said, "I'll never live down my character in To Die For (1995). See, the problem is, if early in your career you come out with a really well-defined character that kind of establishes you, you become known for that."
Nonetheless, in 2000 his role in Gladiator did just that. As the corrupt ruler Commodus, he was nominated for both an Oscar and a Golden Globe. Phoenix has worked non-stop since, with acclaimed performances in Signs (2002) as Mel Gibson's younger brother, Buffalo Soldiers (2003) and in The Village (2004), playing a painfully shy but courageous young man. He also provided the voice of Kenai, a boy who doesn't respect animal life until he becomes one in Brother Bear (2003).
In 2006, Joaquin received an Academy Award nomination and won a Golden Globe award for his portrayal of country singing legend Johnny Cash in the critically-acclaimed biopic, Walk the Line (2005). Some of his more recent roles include the crime thriller We Own the Night (2007) and the romantic drama Two Lovers (2008). In 2013, he received his third Academy Award nomination for his work in the drama The Master (2012). Most recently, he starred in Inherent Vice (2014).
Although he gets a lot of questions about the scar on his lip, it was just something he was born with. A strict vegan, Joaquin doesn't eat meat and refuses to wear clothing made of animal products, including for his movie roles. His sisters Rain and Summer are also successful actors.
Filmography:
Inherent Vice (2014)
The Master (2012)
Two Lovers (2008)
Reservation Road (2007)
We Own the Night (2007)
Walk the Line (2005)
Hotel Rwanda (2004)
Ladder 49 (2004)
The Village (2004)
Aurora Island (2004)
It's All About Love (2004)
Brother Bear (2003)
Buffalo Soldiers (2003)
Signs (2002)
Quills (2000)
The Yards (2000)
Gladiator (2000)
8MM (1999)
Clay Pigeons (1998)
Return to Paradise (1998)
U-Turn (1997)
Inventing The Abbotts (1997)
To Die For (1995)
Walking the Dog (1991)
Parenthood (1989)
Russkies (1987)
Spacecamp (1986)

<< back