View Full Site
John Cena Bio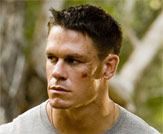 JOHN CENA
Date of Birth: April 23, 1977
Born in West Newbury, Massachusetts, John Cena graduated from Springfield College with a degree in exercise physiology and movement studies. He played football throughout college and earned All-American status. Although he initially wanted to become a professional bodybuilder, in 2000 he switched career goals and decided to follow his father, a wrestling announcer, into the business.
In 2001 Cena was signed to a World Wresting Entertainment developmental contract, but still managed to fit a role in the UPN TV show Manhunters around his wrestling schedule. Playing Big Tim Kingman, he was the lead hunter in the physical reality-based game show. In June 2002, he made his WWE debut and went on to win the WWE Championship numerous times.
His first rap album, "You Can't See Me", was released in May 2005 and he soon followed that up with a starring role in the motion picture The Marine (2006), produced and financed by WWE Films, a division of World Wrestling Entertainment. His most recent works include Sisters (2015), the Amy Schumer comedy Trainwreck (2015), and the thriller The Wall (2017) opposite Golden Globe winner Aaron Taylor-Johnson.
Cena, who lives in Tampa, Florida, is a big fan of cartoons.
Filmography:
The Wall (2017)
Trainwreck (2015)
Daddy's Home (2015)
Sisters (2015)
Camp Fred (2012)
The Reunion (2011)
Legendary (2010)
The Marine (2006)

<< back