View Full Site
John Lithgow Bio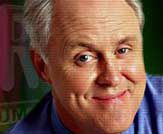 JOHN LITHGOW
Date of Birth: October 19, 1945
Born into a theatrical family in Rochester, New York, John Lithgow made his stage debut at age six in Henry VI, Part III. After graduating from Harvard with a BA in history and literature, he was awarded a Fulbright Scholarship. John used the award to study at the London Academy of Music and Dramatic Art before settling in New York to pursue a stage career.
He has enjoyed a distinguished career on Broadway, earning one Tony award for The Changing Room, a second nomination in 1985 for Requiem for a Heavyweight, and a third in 1988 for M. Butterfly. He subsequently appeared in many other Broadway and off-Broadway plays, in addition to directing for regional companies.
His film debut was as a bad guy in Dealing: Or The Berkeley-to-Boston Forty-Brick Lost-Bag Blues (1972), followed by supporting roles in Obsession (1976) the first of many to mark his long-working relationship with director Brian De Palma, The Big Fix (1978), All That Jazz (1979), Rich Kids (1979) and Blow Out (1981).
John first received national attention for his Oscar-nominated portrayal of Roberta Muldoon in The World According to Garp in 1982. He received a second Academy Award nomination for his portrayal of Debra Winger's lover in the Oscar-winning Terms of Endearment in 1983.
His newfound fame brought him a number of new roles in big budget features including A Good Man in Africa, Silent Fall, Memphis Belle, Princess Caraboo with Steven Rea and Kevin Kline, Harry and the Hendersons, Cliffhanger, The Pelican Brief, Twilight Zone: The Movie, Homegrown and A Civil Action with John Travolta.
John has written a children's book, The Remarkable Farkle McBride, the story of a musical child prodigy. He also created an album of children's songs titled "Singing in the Bathtub" which features some of his favorite tunes from childhood along with "Big Kids," which he wrote.
As the '90s came around he found that he was spending too much time on location, and so he decided to work in a new medium, the small screen. This career move brought him to television in the hugely successful series 3rd Rock from the Sun. In the role of Dick Solomon / High Commander, John received three Emmy Awards, two Screen Actors Guild Awards, a Golden Globe and an American Comedy Award. His son Ian, from his first marriage, had a regular role on the series as a dim-witted student.
Additional television credits include Big Blond with Sally Kellerman, Baby Girl Scott, The Last Elephant with Isabella Rossellini, The Boys with James Woods, the Emmy-nominated miniseries World War II: When Lions Roared and Showtime's The Wrong Man.
He was also in My Brother's Keeper, for which he earned an Emmy Award nomination and Dexter, for which he received his second Golden Globe award and another Primetime Emmy award.
Aside from his success on television, John has made a rather successful comeback on the big screen as well, starring in films like Confessions of a Shopaholic (2009), Leap Year (2010), Rise of the Planet of the Apes (2011) and The Campaign (2012). More recently, he starred alongside Matthew McConaughey in the sci-fi film Interstellar (2014), and alongside Jessica Chastain in Miss Sloane (2016).
John lives in Los Angeles with his wife, Mary, a history professor at UCLA, their daughter Phoebe, and son Nathan.
Filmography:
Daddy's Home 2 (2017)
The Accountant (2016)
Miss Sloane (2016)
Best of Enemies (2015)
The Homesman (2014)
Interstellar (2014)
The Jungle Bunch 2: The Greatest Treasure Quest (2014)
Love Is Strange (2014)
This Is 40 (2012)
The Campaign (2012)
National Theatre Live: The Magistrate (2012)
New Year's Eve (2011)
Rise of the Planet of the Apes (2011)
Leap Year (2010)
Confessions of a Shopaholic (2009)
Dreamgirls (2006)
The Life and Death of Peter Sellers (2004)
Kinsey (2004)
Orange Country (2002)
Shrek (2001)
Rugrats in Paris : The Movie – Rugrats II (2000) (voix)
C-Scam (2000)
A Civil Action (1998)
Homegrown (1998)
Johnny Skidmarks (1998)
Hollow Point (1996)
Princesse Caraboo (1994)
Silent Fall (1994)
A Good Man in Africa (1994)
Love, Cheat & Still (1993)
The Pelican Brief (1993)
Cliffhanger (1993)
Raising Cain (1992)
At Play in the Fields of the Lord (1991)
Ricochet (1991)
L.A. Story (1991)
Memphis Belle (1990)
Out Cold (1989)
Distant Thunder (1988)
Harry and the Hendersons (1987)
The Manhattan Project (1986)
Mesmerized (1986)
Resting Place (1986)
Santa Claus (1985)
2010 (1984)
The Adventures of Buckaroo Banzai (1984)
Footloose (1984)
Terms of Endearment (1983)
Twilight Zone: The Movie (1983)
The World According to Garp (1982)
I'm Dancing as Fast as I Can (1982)
Blow Out (1981)
All That Jazz (1979)
Rich Kids (1979)
The Big Fix (1978)
Obsession (1976)
Dealing: Or the Berkeley-to-Boston Forty-Brick Lost-Bag Blues (1972)
<< back