View Full Site
John Rhys-Davies Bio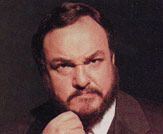 JOHN RHYS-DAVIES
Date of Birth: May 5, 1944
English-born Welsh actor, Rhys-Davies, who was raised in England, Africa and Wales, became inspired to take the road to performing while a university student. After graduating, he won a scholarship to study at the prestigious Royal Academy of Dramatic Arts in London. When his education was completed, he began doing stage work at the critically acclaimed Madder-Market Theatre in Norwich. Moving onto the Royal Shakespeare Company, Rhys-Davies built an impressive line of credits including over 100 plays (and 26 Shakespeare productions) under his career belt.
Starting his screen experience on the small screen in series like I, Claudius, Budgie and telefilms like The Nativity and Shogun, he caught the eye of director Spielburg who was looking for actors to fill roles in his new action flick, Raiders of the Lost Arc (1981). Rhys-Davies fit the bill for the character of Sallah, Indy's best friend and sidekick from former adventures in the Middle East. His character became a memorable for viewers and has remained one of his best-known roles. He reprised the role in the third Indiana film, Indiana Jones and the Last Crusade, eight years later.
Throughout the '80s and '90s he remained in the shadows, playing supporting roles for the most part, but landing occasional lead roles in Victor, Victoria (1982), King Solomon's Mine (1985) and The Living Daylights (1987). At the start of the new millennium he landed a starring role in The Lord of the Rings trilogy, playing the dwarf, Gimli.
His television credits include Noble House, Great Expectations, War and Remembrance, Archaeology, Sliders, The Untouchables and Star Trek: Voyager, playing Leonardo Da Vinci. He has also lent his voice to various animations including the feature, Cats Don't Dance and the series Batman: The Animated Series, Freakazoid, Duckman, Gargoyles voicing MacBeth. In November 2002, while playing the role of Porthos in the mini-series La Femme Musketeer, he made the news when a stage wall fell on him. Rhys-Davies sustained head injuries and a broken arm. He has since recovered.
An avid collector of antique cars, Rhys-Davies divides his time between Los Angeles and the Isle of Man.
Filmography:
The Game of Their Lives (2005)
The Lost Angel (2004)
The Princess Diaries 2: Royal Engagement (2004) The Lord of the Rings: The Return of the King (2003)
Highbinders (2002)
The Lord of the Rings: The Two Towers (2002) (voice)
Sabretooth (2002)
The Lord of the Rings: The Fellowship of the Ring (2001)
The Gold Cross (2000)
Sinbad: Beyond the Veil of Mists (2000) (voice)
Secret of the Andes (1998)
The Protector (1997)
Cats Don't Dance (1997) (voice)
Aladdin and the King of Thieves (1996) (V) (voice)
Bloodsport 3 (1996)
Marquis de Sade (1996)
Glory Daze (1996)
The Great White Hype (1996)
Blood of the Innocent (1994)
Cyborg Cop (1994)
Stargate (1994) (uncredited)
The High Crusade (1994)
The Double 0 Kid (1993)
Sunset Grill (1993)
The Unnamable II: The Statement of Randolph Carter (1993)
Canvas (1992)
Journey of Honor (1992)
The Lost World (1992)
Night Caller (1992)
Return to the Lost World (1992)
The Seventh Coin (1992)
Rebel Storm (1990)
Tusks (1990)
Indiana Jones and the Last Crusade (1989)
Waxwork (1988)
Il Giovane Toscanini (1988)
The Living Daylights (1987)
Firewalker (1986)
In the Shadow of Kilimanjaro (1986)
King Solomon's Mines (1985)
Sahara (1983)
Best Revenge (1982)
Sword of the Valiant: The Legend of Sir Gawain and the Green Knight (1982)
Victor/Victoria (1982)
Sphinx (1981)
Raiders of the Lost Ark (1981)
A Nightingale Sang in Berkeley Square (1979)
The Naked Civil Servant (1975)

<< back