View Full Site
Josh Gad Bio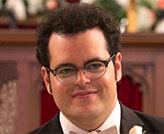 JOSH GAD
Date of Birth: February 23, 1981
Josh Gad is a Tony Award-nominated and Grammy Award-winning actor, comedian and singer best known for his role in the Broadway musical The Book of Mormon and voicing Olaf the snowman in the children's movie phenomenon Frozen.
Josh was born in Hollywood, Florida. He is the youngest of three sons born to a Jewish household — his father is a Jewish immigrant from Afghanistan and his mother is of Ashkenazi Jewish descent. His parents divorced when he was a child, with his mother eventually remarrying. The divorce was a great loss to the young Josh, who chose to use humor and wit in order to cope. That early sense of comedic timing would serve him well in high school, where he won the National Forensics League National Tournament Championships for Original Oratory in 1998 and for Humorous Interpretation and Original Oratory in 1999.
After graduating high school in 1999, he attended the Carnegie Mellon College of Fine Arts. Throughout college, his focus remained steadfast on acting, having completed a semester-long exchange program at the National Institute of Dramatic Art and graduating with a Bachelor of Fine arts in drama.
His first movie role came in 2002 in the Jewish drama Mary and Joe. Next, in 2005, he appeared in an episode of ER, as well as the stage musical The 25th Annual Putnam County Spelling Bee.
Josh's big break came in 2007 when he landed a recurring role on the sitcom Back to You starring Kelsey Grammer. The series lasted only one season, but it provided Josh with the exposure he needed to move his career forward. After the show, the rising actor earned bigger roles in a few high profile films, including 21 (2008), The Rocker (2008), Crossing Over (2009) and Love & Other Drugs (2010).
The year 2011 was a major one for Josh, having starred in the Tony Award-winning musical The Book of Mormon. His role as Elder Cunningham earned him a Tony nomination, a Grammy Award, and considerable notice from both movie and television studios.
Over the next few years, Josh made good use of his comedic talent in a slew of guest roles of TV shows such as The Daily Show with Jon Stewart, Californication, Modern Family, and with recurring roles in the short-lived series Good Vibes (2011) and 1600 Penn (2012-2013).
Josh has also starred in some pretty major feature films, including Ice Age: Continental Drift (2012), Thanks for Sharing (2012) Jobs (2013), The Internship (2013) and his biggest movie to date: 2013's Frozen. Also in 2013, it was announced that Josh would play comedian Sam Kinison in a biopic, as well as co-write and star in the film version of Gilligan's Island. Both films are still in the early planning stages.
The multi-talented actor can more recently be heard lending his voice towards the 2016 video game-turned-animated feature The Angry Birds Movie. In 2017, he also lent his voice to act alongside Dennis Quaid in the family drama A Dog's Purpose. He also portrays LeFou in the live-action adaptation of Beauty and the Beast.
Josh has been married to actress Ida Darvish since 2008, with whom he has two children.
Filmography:
Marshall (2017)
Beauty and the Beast (2017)
A Dog's Purpose (2017)
The Angry Birds Movie (2016)
Pixels (2015)
Frozen Fever (2015)
The Wedding Ringer (2015)
Wish I Was Here (2014)
Frozen (2013)
The Internship (2013)
Jobs (2013)
Thanks for Sharing (2013)
Ice Age: Continental Drift (2012)
She Wants Me (2012)
Mardi Gras: Spring Break (2011)
Love & Other Drugs (2010)
Marmaduke (2010)
The Lost Nomads: Get Lost! (2009)
Crossing Over (2009)
The Rocker (2008)
21 (2008)
Watching the Detectives (2007)
Mary and Joe (2002)
<< back