View Full Site
Josh Hartnett Bio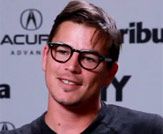 JOSH HARTNETT
Birth Name: Joshua Daniel Hartnett
Date of Birth: July 21, 1978
Josh Hartnett was born in St. Paul, Minnesota. While growing up, he performed in several theater productions in the Minneapolis area. After graduating from South High School in 1996, Hartnett attended SUNY in Purchase, New York. In 1997, he traveled to Los Angeles with his manager and within two months, was offered a role in the TV series, Cracker. During this time, he was also trying to get a role on Dawson's Creek. He auditioned six times, but failed to get a part.
Cracker was enjoyed by critics, but had trouble finding an audience. Although the show's cancellation was a disappointment to Josh, he bounced right back the following year with a role in the much anticipated sequel, Halloween: H20 (1998). The film was a success and Hartnett followed it up with The Faculty (1998), proving his acting ability was not just a fluke.
After The Faculty, Josh distanced himself from the horror genre by landing a lead role in the indie film The Virgin Suicides (1999). In 2000, he played the jilted boyfriend in the love triangle featured in Here on Earth (2000). He then took more dramatic roles in a Shakespearian update, O (2001), based on Othello and the war film, Pearl Harbor (2001). He went on to starring roles in the comedy 40 Days and 40 Nights (2002) and the thriller Wicker Park (2004), also fitting in a role in the action film Hollywood Homicide (2003) opposite Harrison Ford. He joined an all star cast in the offbeat action crime thriller Sin City (2005).
In addition to acting, Josh enjoys visual arts, basketball, football and hockey. When he isn't living in Los Angeles for work, Josh, a vegetarian, spends his time in St. Paul with his family. He has a child with girlfriend Tamsin Egerton, whom he starred alongside in The Lovers (2013).
Filmography:
The Long Home (2017)
Wild Horses (2015)
Parts Per Billion (2014)
The Lovers (2013)
Stuck Between Stations (2011)
Girl Walks Into a Bar (2011)
Bunraku (2010)
I Come with the Rain (2009)
End Zone (2009)
I Come with the Rain (2009)
August (2008)
The Prince of Cool (2007)
30 Days of Night (2007)
Resurrecting the Champ (2007)
The Black Dahlia (2006)
Lucky Number Slevin (2005)
Sin City (2005)
Mozard and the Whale (2004)
Wicker Park (2004)
Hollywood Homicide (2003)
Black Hawk Down (2002)
40 Days and 40 Nights (2002)
Pearl Harbor (2001)
Town and Country (2001)
O (2001)
Blow Dry (2001)
Here on Earth (2000)
The Virgin Suicides (1999)
The Faculty (1998)
Halloween H20: Twenty Years Later (1998)
Debutante (1997)
<< back