View Full Site
Karen Allen Bio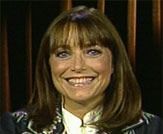 KAREN ALLEN
Date of Birth: October 5, 1951
Born in rural Carrolton, Illinois, Karen Allen and her two sisters were shuffled through Knoxville, Chattanooga and Pittsburgh before the family settled in Washington, D.C. when she was eleven. Her father, Carroll Thompson Allen, worked for the FBI and her mother, Patricia Howell, was a schoolteacher.
Lacking any sort of professional direction after graduating high school, Allen studied design in New York, ran a boutique, wrote short stories, lived alone in Jamaica for five months and drove from Mexico to Peru with friends who were filming a documentary on South American Indians. When she was 20 she saw a performance by Grotowski's Polish Theatre Lab and was transfixed by the art of acting.
In 1974 Allen joined a theater group and three years later moved back to New York to study at the Lee Strasberg Institute. In 1978, she made her major film debut in National Lampoon's Animal House and Hollywood took notice.
Shortly after filming wrapped, at age 28, she was afflicted with EKC, a virus infection that caused a severe loss of vision. The disease went away three months later, but left her corneas slightly scarred, and her vision less than perfect.
Her performance in Rob Cohen's A Small Circle Of Friends, as well as her turn in Animal House, caught the eye of Steven Spielberg who gave her career a big boost by giving her the role of Marion Ravenwood in Raiders of the Lost Ark (1981) opposite Harrison Ford. Fans were surprised when she did not reprise the role in either of two sequels. The reasons for her absence have been a topic of speculation for Indiana Jones fans ever since.
Allen made her Broadway debut in 1982 in The Monday After the Miracle, for which she won a Theatre World Award for Best New Actress. After a few small films and other stage appearances, she made the successful science fiction movie Starman (1984), with Jeff Bridges. After that her movie career waned as she bounced in and out of mainstream films, preferring instead to work on the stage, television and in independent films.
Although out of the limelight, Allen occasionally made appearances in such blockbuster films as Scrooged (1988), Malcom X (1992), The Sandlot (1993), and The Perfect Storm (2000).
Married for 10 years to Kale Browne, a popular TV soap opera, the two had a son, Nicholas. The couple split in 1997, but not before appearing together as husband and wife in the films Challenger and 'Til There Was You.
The actress has also founded her own yoga center where she and a staff of instructors teach 35 classes a week. She also teaches advanced knitting, sweater design and multi-color knitting at schools in upstate New York and western Massachusetts. In 2008, she made a triumphant return to the big screen after four years away in Indiana Jones and the Kingdom of the Crystal Skull (2008)
Filmography
: Indiana Jones and the Kingdom of the Crystal Skull (2008)
When Will I Be Loved (2004)
Poster Boy (2004)
Briar Patch (2003)
The Root (2003)
World Traveler (2001)
In the Bedroom (2001)
The Perfect Storm (2000)
The Basket (1999)
Falling Sky (1998)
Wind River (1998)
'Til There Was You (1997)
Ghost in the Machine (1993)
King of the Hill (1993)
The Sandlot (1993)
The Turning (1992)
Malcolm X (1992)
Sweet Talker (1991)
Animal Behavior (1989)
Scrooged (1988)
Backfire (1987)
The Glass Menagerie (1987)
Terminus (1986)
Until September (1984)
Starman (1984)
Split Image (1982)
Shoot the Moon (1982)
Raiders of the Lost Ark (1981)
A Small Circle of Friends (1980)
Cruising (1980)
The Wanderers (1979)
Animal House (1978)
<< back