View Full Site
Karen Gillan Bio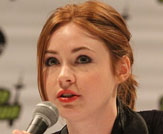 KAREN GILLAN
Date of Birth: November 28, 1987
Karen Sheila Gillan was born an only child in Inverness, Scotland to recording artist/singer John Gillan and his wife Marie. Her father's music career inspired her to take up piano at the age of seven, and this eventually ignited another passion: acting. While enrolled at the local Charleston Academy, she performed in many theater productions and joined several youth theater groups. At 16, the beautiful redhead moved to Edinburgh and took an acting course at Telford College before moving to London at 18 to complete an Honors degree in acting at the prestigious Italia Conti Academy of Theater Arts.
While enrolled at Italia Conti, a modeling agency recruited Karen and gave her the opportunity to work as a model for a period of time. After that, she focused on her acting career, which started small in the form of minor roles and guest appearances in various television shows. These small roles eventually landed her a major role in 2009 in the popular British sci-fi series, Doctor Who. Her role as Amy Pond gained her several awards nominations and a couple of wins in the few years after she joined the show's cast.
In the 2013 indie film Not Another Happy Ending, Karen played the lead role of author Jane Lockheart. She also stars in the horror flick Oculus (2013) alongside Aussie newbie Brenton Thwaites.
Karen recently made headlines after shaving her head completely for a major role as the villain Nebula in the highly anticipated Guardians of the Galaxy (2014). The former redhead revealed that shaving her head was a positive and liberating experience for her, and it also demonstrates her dedication to her roles as an up-and-coming actress.
More recently, she appeared in The Big Short (2015), The Circle (2017), and reprised her role as Nubula in Guardians of the Galaxy Vol. 2 (2017).
Aside from feature films and television, Karen enjoyed a brief stint on Broadway in 2013 when she appeared in Time to Act, a play that benefits the non-profit organization Urban Arts Partnership. Her red locks have landed her more than just acting roles — she was also ranked on FHM's 100 Sexiest Women list two years in a row, in 2011 and 2012. Karen currently resides in Los Angeles.
Filmography:
Avengers: Infinity War (2018)
Jumanji (2017)
Guardians of the Galaxy Vol. 2 (2017)
The Circle (2017)
The Big Short (2015)
The List (2014)
Guardians of the Galaxy (2014)
Oculus (2013)
Not Another Happy Ending (2013)
Outcast (2010)
New Town Killers (2008)
<< back