View Full Site
Kate Hudson Bio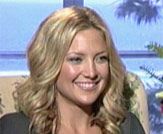 KATE HUDSON
Date of Birth: April 19 1979
With her mother's loopy grin, golden locks and bright eyes, it wasn't long before Kate Hudson found her way into the movies. The daughter of actress Goldie Hawn, Hudson was born in Los Angeles, California. As well as having a famous mom, Hudson's dad also worked in the business. Bill Hudson was a singer and television performer who, along with his brothers, hosted two television variety shows.
She had always wanted to become an actress, but it wasn't until her mother's boyfriend, actor Kurt Russell, suggested she audition for a small part in his 1996 film Escape from L.A., that she actively pursued it. Although she didn't get the role, the experience was a positive one, and she soon found herself an agent.
Before long, she made her professional debut in an episode of the hit series Party of Five playing a mystery woman who comes between Julia (Neve Campbell) and Justin (Michael Goorjian). Her character never showed up again, but given the way her film schedule has been positively crammed ever since, that's probably a good thing.
She landed starring roles in the Morgan J. Freeman indie Desert Blue, which screened at the 1998 Toronto Film Festival and was picked up for distribution by Samuel Goldwyn; and the coming-of-ager Ricochet River, which also screened on the festival circuit. In 1999, she managed to stand out in her first major film 200 Cigarettes, which was laden with young talent. She played Cindy, a klutzy virgin deflowered by a caddish actor (Jay Mohr).
In 2000, she finds herself in the spotlight again in the college drama Gossip, with fellow young hotties Joshua Jackson and James Marsden. She was also cast in Cameron Crowe and Robert Altman projects, Almost Famous (winning a Best Supporting Actress at the Golden Globes) and Dr. T and the Women.
With solid hits like How to Lose a Guy in 10 Days (2003) to her credit, Hudson is carving out a career for herself in Hollywood. In a world full of pretty faces, she has managed to make herself stand out with good old-fashioned charm and charisma.
"My plan is to be around for quite a while. So, I'm just going with it, you know? Right now, all this hype isn't coming from the work that I've done. It's mostly coming from my [parentage], which is OK. It's OK. It's what it is. Luckily, I've got something to back it up with."
Hudson married Black Crowes frontman Chris Robinson on December 31, 2000. On January 7, 2004, they became the proud parents of Ryder Russell Robinson, their first child.
Unfortunately, the marriage fell apart less than three years later, after she was linked to her You, Me and Dupree (2006) co-star, Owen Wilson. That relationship has also since ended. Hudson and Robinson, now divorced, share custody of their son. Hudson was then engaged to fiancé Muser rocker Matt Bellamy in April 2011 and had a son named Bingham Bellamy born in July 2011. However, the couple decided to split ways in December 2014.
More recently, Kate Hudson starred in Mother's Day (2016) and in Deepwater Horizon (2016), alongside Mark Wahlberg.
Filmography:
Deepwater Horizon (2016)
Mother's Day / La fête des meres (2016)
Kung Fu Panda 3 (2016)
Rock the Kasbah (2015)
Good People (2014)
Wish I Was Here (2014)
The Reluctant Fundamentalist (2012)
Something Borrowed (2011)
A Little Bit of Heaven (2011)
The Killer Inside Me (2010)
Nine (2009)
Bride Wars (2009)
My Best Friend's Girl (2008)
Fool's Gold (2008)
You, Me and Dupree (2006)
The Skeleton Key (2005)
Raising Helen (2004)
Le divorce (2003)
Alex & Emma (2003)
How to Lose a Guy in 10 Days (2003)
The Four Feathers (2002)
The Cutting Room (2001)
Ricochet River (2001)
Dr. T and the Women (2000)
Almost Famous (2000)
Gossip (2000)
About Adam (2000)
200 Cigarettes (1999)
Desert Blue (1998)

<< back