View Full Site
Kate McKinnon Bio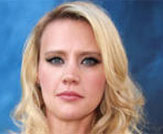 KATE MCKINNON
Date of Birth: January 6, 1984
Kathryn McKinnon Berthold, known professionally as Kate McKinnon, was born in Sea Cliff, New York. She is the daughter of Laura Campbell, a parent educator, and Michael Thomas Berthold, an architect who died when Kate was 18 years old. She also has a younger sister named Emily Lynne.
Kate was a creative child, playing guitar, piano, and cello, while performing in dance recitals and plays. She graduated from North Shore High School in 2002, and then graduated in 2006 with a theater major from Columbia University. There, she co-founded Tea Party, a comedy group which focused on musical improv comedy.
In 2007, Kate got her break in television when she joined the original cast of Logo TV's The Big Gay Sketch Show, and stayed there as a cast member for all three seasons. One of her best-known characters was Fitzwilliam, a British boy whose only wish was to become a girl. She has performed live sketch comedy regularly at the Upright Citizens Brigade Theatre in New York City since 2008.
Kate has also worked as a voice actress on series such as The Venture Brothers, Robotomy, and Ugly Americans. Kate debuted as a featured player on Saturday Night Live (SNL) on April 7, 2012, and then promoted to repertory status in Season 39. She is their first openly lesbian cast member, as 1980s SNL cast member Danitra Vance's sexual orientation was not revealed until after her death in 1994.
Kate has won many awards and nominations for her comedy and acting. In 2009, she won a Logo NewNowNext Award for Best Rising Comic, and in 2010, she was nominated for an ECNY Emerging Comic Award. In 2013, she was nominated for a EWwy award for Best Supporting Actress, Comedy, and in 2014, won the American Comedy Award for Best Supporting TV Actress for her work on SNL. She was nominated for an Emmy for Outstanding Original Music and Lyrics along with four colleagues for the song (Do It On My) Twin Bed. In both 2014 and 2015, she was nominated for an Emmy Award for Outstanding Supporting Actress in a Comedy Series.
On SNL, she is known for her celebrity impressions of Justin Bieber, Shakira, and Ellen DeGeneres, to name a few. She began appearing as Hillary Clinton leading up to the 2016 presidential election, and the real Hillary even appeared alongside her in a sketch during the show's Season 41 premiere. Aside from SNL, Kate also co-created and co-stars with her sister in the web series Notary Publix, and co-hosted the 31st Independent Spirit Awards in 2016 with Kumail Nanjiani. More personally, Kate has been dating fellow actress and comedian Marla Mindelle since 2013.
In January 2015, she was cast as eccentric scientist Jillian Holtzmann in the Ghostbusters reboot, along with co-stars and SNL alumni Kristen Wiig and Leslie Jones. In 2016, she starred alongside Jason Sudeikis and Kristen Wiig in the crime comedy Masterminds, and Office Christmas Party starring Jennifer Aniston and Jason Bateman.
Kate's latest credit is the female-driven comedy Rough Night with Scarlett Johansson and Zoë Kravitz.
Filmography:
The Spy Who Dumped Me (2018)
Rough Night (2017)
Office Christmas Party (2016)
Masterminds (2016)
Ghostbusters (2016)
Finding Dory (2016)
The Angry Birds Movie (2016)
Sisters (2015)
Staten Island Summer(2015)
Ted 2 (2015)
Balls Out (2014)
Life Partners (2014)
Hannah Has a Ho-Phase (2012)
My Best Day (2012)
<< back