View Full Site
Katherine Waterston Bio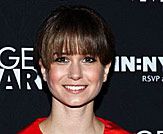 KATHERINE WATERSTON
Date of Birth: March 3, 1980
Katherine Waterston grew up in a small town in Connecticut. As the middle child in a family of actors, Waterston regularly visited her father, Oscar-nominated actor Sam Waterston, on television and movie sets.
Waterston attended New York University where she hoped to major in theater and photography, however, due to heavy workloads in both fields she just focused on theater, following in the footsteps of her family.
The actress first appeared on camera for Bryce Dallas Howard's short-subject film Orchids and landed a small role in the Academy award-winning movie Michael Clayton (2007) starring George Clooney.
With just a few films under her belt, Waterston landed her first lead role in The Babysitters (2008), co-starring Cynthia Nixon and John Leguizamo. In this eerie drama, Waterston played an honor student who engages in a sexual affair with the father of the children she babysits, eventually forming a prostitution ring so she can collect money for college.
Waterston then starred in the independent film Good Dick (2008), in which she acted alongside her sister, Elisabeth Waterston, The Factory (2012) with John Cusack, and Night Moves (2013) with Jesse Eisenberg and Dakota Fanning. Most recently, she starred in Inherent Vice (2014), Steve Jobs (2015), Fantastic Beasts and Where to Find Them (2016) and Ridley Scott's sci-fi thriller Alien: Covenant (2017).
Filmography:
The Current War (2018)
Alien: Covenant (2017)
Fluidic (2017)
State Like Sleep (2017)
Fantastic Beasts and Where to Find Them (2016)
Manhattan Romance (2015)
Steve Jobs (2015)
Queen of Earth (2015)
Sleeping with Other People (2015)
Inherent Vice (2014)
Night Moves (2014)
The Factory (2012)
The Babysitters (2008)
Michael Clayton (2007)
Orchids (2006)
<< back