View Full Site
Kathy Bates Bio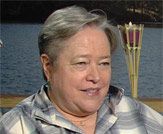 KATHY BATES
Date of Birth: June 28, 1948
The zaftig Tennessee native had an extensive stage resumé before her breakthrough film role in Misery.
She made her off-Broadway debut in 1976 with Vanities, following that with the role of Stella Mae in Come Back To The Five And Dime, Jimmy Dean, Jimmy Dean—a part she would recreate in Robert Altman's film version.
From there, Bates seemed to make a career of creating roles onstage that other women would play on film: the would-be suicide in 'night Mother (Sissy Spacek in the movie), oddball sister Lenny McGrath in Crimes Of The Heart (Diane Keaton in the film) and—in a role written just for her—the lovelorn waitress of Frankie And Johnny at the Clair de Lune (rewritten for Michelle Pfeiffer and given the abbreviated title Frankie And Johnny for the screen).
In 1990, she finally got a film role she could sink her teeth into: crazed fan Annie Wilkes in Rob Reiner's screen version of Stephen King's Misery. She won an Oscar and a Golden Globe for her alternately subdued and psychotic performance, and the roles poured in. Free to pick and choose, she made high-profile films like Fried Green Tomatoes and Prelude To A Kiss, and acclaimed TV appearances in The Late Shift and The Stand. Bates also appeared in the wildly sucessful 1997 James Cameron film Titanic, which was re-released in 3D in 2012. More recently, she starred in A Little Bit of Heaven (2014)and Tammy (2014).
Bates was nominated for a Golden Globe for her role in the critically-acclaimed About Schmidt (2002), co-starring Jack Nicholson. In 2004 she was nominated for a Directors Guild of America award for directing the episode titled "Twilight" for the hit series Six Feet Under. She was also nominated for an Emmy for her acting on the same series, as well as receiving Emmy nominations in 2005, 2006 and 2010 for her work in the TV movies Warm Springs, Ambulance Girl and Alice.
The legendary actress can more recently be seen in the comedy The Boss (2016) starring Melissa McCarthy, the mystery drama Complete Unknown (2016) alongside Rachel Weisz and Michael Shannon, and the comedy sequel Bad Santa 2 (2016). She also continues to star in the FX horror anthology series American Horror Story.
<< back