View Full Site
Kaya Scodelario Bio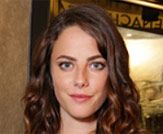 Kaya Scodelario
Date of Birth: March 13, 1992
Kaya Scodelario was born in London, England to parents Roger Humphrey and Katia Scodelario. Kaya's parents divorced when she was young and she was raised solely by her mother, who was born in Brazil and ensured Kaya grew up fluent in both English and Brazilian Portuguese. At the age of 14 Kaya made the decision to become an actress.
Kaya also had to deal with dyslexia growing up, something she says she has struggled with her entire life, and has "really affected my self-esteem," according to a tweet she posted in 2010.
Kaya made her acting debut on the popular British teen television drama Skins. She auditioned for the role with no prior acting experience, but was chosen to become one of the series' most popular characters. By season three she was the only original cast member to remain on the show, and stayed on until the end of season four.
During hiatus from the show, Kaya found time to film several movies, making her feature film debut as Sam Rockwell's daughter, Eve, in the space drama Moon (2009). She also played a small role in the mythical action flick Clash of the Titans (2010) and took on the role of Cathy in the classic British drama Wuthering Heights (2011).
Kaya worked as a model at the same time—appearing in magazines and music videos—including a video for Brit star Robbie Williams' song Candy. She played her first starring role opposite Jessica Biel in the film The Truth About Emanuel (2013), playing the title character.
The Maze Runner is Kaya's first major action film, in which she plays Teresa, the only girl among a group of teenage boys stuck together in a deadly maze. She reprised her character in the sequel to the film, The Maze Runner: The Scorch Trials.
Her latest credit is Pirates of the Caribbean: Dead Men Tell No Tales (2017), in which she plays Carina. She stars alongside Johnny Depp, Orlando Bloom and Brenton Thwaites.
Filmography:
Maze Runner: The Death Cure (2018)
Pirates of the Caribbean: Dead Men Tell No Tales (2017)
The Maze Runner: The Scorch Trials (2015)
The Moon and the Sun (2015)
Tiger House (2014)
The Maze Runner (2015)
The Truth About Emanuel (2013)
Now is Good (2012)
Twenty8k (2012)
Wuthering Heights (2011)
Clash of the Titans (2010)
Shank (2010)
Moon (2009)
<< back