View Full Site
Keanu Reeves Bio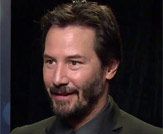 KEANU REEVES
Date Of Birth: September 2, 1964
Although Keanu Reeves was born in Beirut, Lebanon, he was raised in Australia and New York before coming to Toronto to live and attend Toronto's High School for the Performing Arts. It was also in Toronto that Reeves made his professional debut on a local TV show. (Hockey fans should also take note that he was once a high school hockey MVP.)
But it was his role as goofy teenager in Bill & Ted's Excellent Adventure that propelled him into the big time, a role that, by his own account, he was born to play. "I'm a meathead," he once said. "I can't help it, man. You've got smart people and you've got dumb people."
Self deprecation aside, Reeves transcended his Bill & Ted image when he showed up to good effect in such films as Point Break and My Own Private Idaho before jumping to superstar status when he jumped on the bus with Sandra Bullock in Speed.
Often appearing rather wooden on screen, his star status is something that must be rather bemusing to his fellow actors such as Charlie Sheen who once said of Reeves: "How does Francis Ford Coppola, one of the greatest filmmakers of our time, see Keanu Reeves's work, see what we've all seen, and say, "That's what I want in my movie"? How does Bertolucci see that and say, "That's my guy?" Emilio and I sit around and just scratch our heads, thinking, "How did this guy get in?"
Nevertheless, Reeves was chosen to play the lead in The Matrix (1999), and had another solid hit on his hands. Although he'd previously turned down the sequel to Speed, this time he signed on for not one, but two Matrix sequels. Despite a resume that boasts over 40 films to his credit, his acting skills still don't receive any plaudits, but as long as he continues to bring audiences in at the box office, his career is thriving. Reeves himself is pretty humble about his own role in the Hollywood hierarchy, a role he often lets slide in favour of playing bass with his rock band, DogStar. "I'm not considered like, you know, actors like Brad Pitt, or, let's say, Tom Cruise," Reeves says. "I don't have that kind of draw. You know, I'm just trying to be a working actor. Some people like what I do, some don't. There's not really much I can do about it. I'm trying, you know? I'm not the best actor in the world; I know that. But I'm trying. That doesn't mean anything, I guess -- just to try."
In 2005, Reeves received a star on the Hollywood Walk of Fame. To the delight of their respective fans, he finally re-teamed with Speed costar Bullock for the romantic drama The Lake House (2006).
In later years, he starred in 47 Ronin (2013) and John Wick (2014). He can also be seen in the 2015 thriller Knock Knock, as well as the 2016 films The Neon Demon, Replicas and The Whole Truth.
Keanu's latest credits include John Wick: Chapter 2 (2017) with Laurence Fishburne, and The Bad Batch (2017) with Jason Momoa.
Filmography:
Bill & Ted 3 (2018)
The Bad Batch (2017)
John Wick: Chapter 2 (2017)
To the Bone (2017)
The Whole Truth (2016)
 Replicas (2016)
The Neon Demon (2016)
Knock Knock (2015)
John Wick (2014)
47 Ronin (2013)
Man of Tai Chi (2013)
Henry's Crime (2011)
The Private Lives of Pippa Lee (2009)
The Day the Earth Stood Still (2008)
Street Kings (2008)
A Scanner Darkly (2006)
The Lake House (2006)
Constantine (2005)
Thumbsucker (2005)
Something's Gotta Give (2003)
The Matrix Revolutions (2003)
The Matrix Reloaded (2003)
Hardball (2001)
Sweet November (2000)
The Gift (2000)
The Watcher (2000)
The Replacements (2000)
The Matrix (1999)
Me and Will (1999)
The Devil's Advocate (1997)
The Last Time I Committed Suicide (1997)
Feeling Minnesota (1996)
Chain Reaction (1996)
Johnny Mnemonic (1996)
A Walk In the Clouds (1995)
Speed (1994)
Little Buddha (1993)
Even Cowgirls Get the Blues (1993)
Much Ado About Nothing (1993)
Bram Stoker's Dracula (1992)
Providence (1991)
My Own Private Idaho (1991)
Point Break (1991)
Bill & Ted's Bogus Journey (1991)
I Love You To Death (1990)
Tune In Tomorrow (1990)
Parenthood (1989)
Bill & Ted's Excellent Adventure (1989)
The Night Before (1988)
Permanent Record (1988)
The Prince of Pennsylvania (1988)
Dangerous Liaisons (1988)
River's Edge (1987)
Youngbloods (1986)
Flying (1986)
The Prodigal (1984)
<< back