View Full Site
Keegan-Michael Key Bio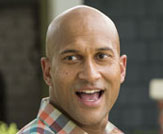 Keegan-Michael Key
Date of Birth: March 22, 1971
Comedian/actor Keegan-Michael Key, who was born to mixed-race parents, was adopted at a very young age by a white mother and black father. This is something he says greatly informs his comedy. In an interview with NPR, Keegan-Michael said he became an actor because he "did a fair amount of code switching growing up, and still do."
Born in Southfield, Michigan but raised in Detroit, Keegan-Michael attended Shrine Catholic High School. After graduating in 1989, he enrolled at the University of Detroit Mercy as an undergraduate, and eventually earned his Masters of Fine Arts in theater at Pennyslvania State University.
Keegan-Michael began his career working the improv scene in Chicago, where he met friend and collaborator Jordan Peele and was a member of Second City in both Detroit and Chicago. Following that, he landed small roles on television shows such as ER and films such as Uncle Nino (2003) and Mr. 3000 (2004), but found it difficult to break into the mainstream. That is, until he got his big break as a regular cast member on the sketch comedy show MADtv (1995 to 2009) alongside Jordan Peele in 2004. Keegan-Michael became known for his spot-on celebrity impersonations of celebrities such as Sidney Poitier, Lionel Richie, Eddie Murphy and Snoop Dogg. He remained with the series until its cancellation in 2009.
After In 2012, Keegan-Michael and Jordan landed their own Comedy Central sketch series named Key and Peele. The show was a huge success, earning an Emmy nomination and winning a Peabody Award, before it ended in 2015.
After MADtv and during his run on Key and Peele, Keegan-Michael appeared in a slew of comedy films, including Due Date (2010), Just Go with It (2011), Bucky Larson: Born to Be a Star (2011), Wanderlust (2012), Horrible Bosses 2 (2014), Let's Be Cops (2014), Pitch Perfect 2 (2015) and many more. He's also guest-starred on such television shows as Whose Line is it Anyway?, Parks and Recreation, the Emmy award-winning Fargo and Netflix's BoJack Horseman.
Keegan-Michael currently stars in USA's comedy series Playing House as Mark Rodriguez, and can be seen in the cat kidnap comedy Keanu, once again opposite his pal Jordan Peele, The Angry Birds Movie, Don't Think Twice, Storks and Why Him?. It was also announced in March 2015 that Keegan-Michael would reprise his role as Mr. Garvey in a feature-length film titled Substitute Teacher, based on the popular character he portrayed in Key and Peele, while Jordan will portray a rival teacher.
Keegan-Michael was married to actress Cynthia Blaise for 17 years, but he filed for divorce in December of 2015 after a short separation.
Filmography:
Friends from College (2017)
Why Him? (2016)
Storks (2016)
Don't Think Twice (2016)
The Angry Birds Movie (2016)
Keanu (2016)
Freaks of Nature (2015)
Hotel Transylvania 2 (2015)
Vacation (2015)
Tomorrowland (2015)
Pitch Perfect 2 (2015)
Horrible Bosses 2 (2014)
Let's Be Cops (2014)
Teacher of the Year(2014)
The Lego Movie (2014)
Afternoon Delight (2013)
Hell Baby (2013)
Wanderlust (2012)
Bucky Larson: Born to Be a Star (2011)
Just Go with It (2011)
Due Date (2010)
Role Models (2008)
Alleyball (2006)
Mr. 3000 (2004)
Uncle Nino (2003)
Garage: A Rock Saga (2000)
Get the Hell Out of Hamtown (1999)
<< back