View Full Site
Ken Jeong Bio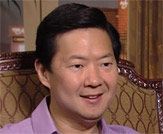 KEN JEONG
Date of Birth: July 13, 1969
Born in Greensboro, North Carolina, Ken Jeong earned his undergraduate degree at Duke University, his medical degree at the University of North Carolina and completed his internal medicine residency in New Orleans, all while doing stand-up. In 1995, Ken won the Big Easy Laff Off and was invited to Los Angeles by judges former NBC President Brandon and Improv founder Budd Friedman. Ken began performing regularly at the Improv and Laugh Factory, and was seen on a number of television shows, including The Office, Entourage and MADtv.
In 2006, Ken and fellow comedian Mike O'Connell's spoof rap duo, Million Dollar Strong, posted on YouTube, garnering over one million views.
Judd Apatow's 2007 box office smash Knocked Up marked Ken's feature film debut, in the role of Dr. Kuni. He followed with his first major role, as villain King Argotron, in 2008's Role Models. That same year, he appeared in Pineapple Express (2008) and Step Brothers (2008).
Ken played Asian mobster Mr. Chow in the hit motion picture The Hangover (2009) and reprised the role for both sequels. Ken also plays the recurring role of angry Spanish teacher Senor Chang on the NBC comedy series Community.
Other movies include The Goods: Live Hard, Sell Hard (2009), Couples Retreat (2009), Transformers: The Dark Side of the Moon (2011) and the comedy The Zookeeper (2011) opposite Kevin James. Ken also appeared in Pain & Gain (2013) alongside Ed Harris and Mark Wahlberg and The Hangover Part III (2013).
His voice can be heard in
Despicable Me
(2010) and the sequel,
Despicable Me 2
(2013) with Steve Carell, as well as in the animated film
Turbo
(2013). More recently, he starred in
The DUFF
(2015).
Ken and his wife, Tran, have twin daughters, Zooey and Alexa.
Filmography:
Norm of the North (2016)
The DUFF (2015)
Penguins of Madagascar (2014)
Turbo (2013)
Despicable Me 2 (2013)
The Hangover Part III (2013)
Pain & Gain (2013)
The Hangover Part II (2011)
Furry Vengeance (2010)
Vampires Suck (2010)
Couples Retreat (2009)
The Goods: Live Hard, Sell Hard (2009)
All About Steve (2009)
The Hangover (2009)
Role Models (2008)
Pineapple Express (2008)
Step Brothers (2008)
Knocked Up (2007)
<< back