View Full Site
Ken Watanabe Bio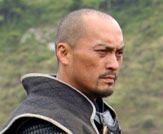 KEN WATANABE
Date of Birth: October 21, 1959
Born in Japan, Ken Watanabe graduated from high school in 1978. He was unsure what he wanted to do with his life, but while in college, a director from England's National Theatre Company recommended that he try acting. Watanabe began his career onstage with the Tokyo-based theater troupe Madoka. His film acting debut was in Setouchi shonen yakyu dan (1984), but he developed leukemia shortly after the production wrapped. The cancer went into remission and in 1985 he appeared in two more films and wrote another, called Ninja's Force.
Watanabe made his television debut in Michinaru Hanran, then played a role in the successful Samurai drama series Dokuganryu Masamune. The leukemia returned in 1994, but again went into remission after a stay in the hospital. Watanabe starred in a Japanese television series called Zankurou and even tried his hand at directing during the 50-episode run.
In 2003, he got the biggest break of his career when he was chosen to play Katsumoto opposite Tom Cruise as Nathan Algren in the big budget Hollywood picture The Last Samurai (2003). Watanabe received nominations for both a Golden Globe and an Oscar for his supporting performance. More recently, he starred in Godzilla (2014).
Ken divorced his wife, Yumiko, with whom he has two adult children, in April 2005. Later that year, he married actress Kaho Minami.
Filmography:
Thor: Ragnarok (2017)
Godzilla (2014)
Inception (2010)
Shanghai (2010)
Cirque du Freak: The Vampire's Assistant (2009)
Letters from Iwo Jima (2006)
Ashita no kioku (2006)
Memoirs of a Geisha (2005)
Batman Begins (2005)
The Last Samurai (2003)
T.R.Y. (2003)
Hi wa mata noboru (2002)
Sennen no koi - hikaru genji monogatari (2002)
Supeesu toraberaazu (2000)
Oboreru sakana (2000)
Kizuna (1998)
Rajio no jikan (1997)
Bakumatsu jyunjyoden (1991)
Umi to dokuyaku (1986)
Tampopo (1985)
Kekkon annai mystery (1985)
Setouchi shonen yakyu dan (1984)
<< back