View Full Site
Kenneth Branagh Bio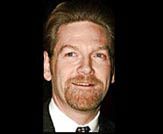 KENNETH BRANAGH
Date of Birth: December 10, 1960
Originally from Belfast, Northern Ireland, Kenneth Branagh grew up in poverty in the shadow of a tobacco factory. He was educated at the RADA (Royal Academy of Dramatic Art) in London, and joined the Royal Shakespeare Company at the age of 23, where he took the starring roles in Henry V and Romeo and Juliet. Branagh soon decided to form his own company, the Renaissance Theatre Co.
In 1989, he married fellow actor, Emma Thompson, and in that same year he directed and starred in the film Henry V with Thompson. The film brought him Best Actor and Best Director Oscar nominations.
He played opposite Thompson again in the films Dead Again and Shakespeare's Much Ado About Nothing, which he also directed.
Kenneth published his autobiography before he was 30, which may have been a bit too soon. After the poor run of Mary Shelley's Frankenstein, Kenneth and Emma announced their plans to divorce, following allegations of adultery on his part.
Although Kenneth has always kept his Shakespeare roles up, he has also widened his scope with roles such as the John Grisham lawyer hero in The Gingerbread Man; a lovelorn parish priest in the period drama The Proposition; the arch villain in the '60s cult TV classic Wild Wild West and Professor Gilderoy Lockhart in Harry Potter and the Chamber of Secrets.
He continued to act in films such as Valkyrie (2008) alongside Tom Cruise and played Sir Laurence Olivier alongside Harry Potter's Emma Watson in the BBC film My Week with Marilyn (2011). The 2011 Marvel Universe/Paramount film Thor has been his biggest blockbuster to date. For his work in My Week with Marilyn, Branagh received his second Actor in a Leading Role Academy Award nomination.
Since then, he's gone on to direct the hit live-action remake Cinderella (2013) for Disney, the actioner Jack Ryan: Shadow Recruit (2013) starring Tom Cruise and most recently, directed and starred in Murder on the Orient Express (2017), playing the role of Hercule Poirot.
After dating actress Helena Bonham Carter for several years, in May 2003, Kenneth married Art Director Lindsay Brunnock.
Filmography (Director):
Murder on the Orient Express (2017)
Cinderella (2013)
Jack Ryan: Shadow Recruit (2013)
Thor (2011)
Sleuth (2007)
The Magic Flute (2006)
Love's Labour's Lost (2000)
Hamlet (1996)
In the Bleak Midwinter (1995)
Frankenstein (1994)
Much Ado About Nothing (1993)
Peter's Friends (1992)
Dead Again (1991)
Henry V (1989)
Filmography (Actor):
Murder on the Orient Express (2017)
Branagh Theatre Live: The Entertainer (2016)
The Winter's Tale - Branagh Theatre Live (2015)
Jack Ryan: Shadow Recruit (2013)
My Week with Marilyn (2011)
The Boat That Rocked (2009)
Valkyrie (2008)
Sleuth (2007)
Five Children and It (2004)
Harry Potter and the Chamber of Secrets (2002)
Rabbit-Proof Fence (2002)
How to Kill Your Neighbor's Dog (2000)
The Road to El Dorado (2000)
Love's Labour's Lost (2000)
Wild Wild West (1999)
The Theory of Flight (1998)
Celebrity (1998)
The Proposition (1998)
The Gingerbread Man (1998)
Hamlet (1996)
Othello (1995)
Frankenstein (1994)
Swing Kids (1993)
Peter's Friends (1992)
Dead Again (1991)
Henry V (1989)
High Season (1987)
A Month in the Country (1987)
<< back