View Full Site
Kevin Hart Bio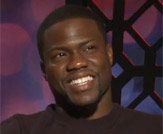 KEVIN HART
Date of Birth: 1980
While working as a shoe salesman in Philadelphia, Kevin Hart decided to give standup a try at a local comedy club's amateur night. He was a success and began performing full time at clubs such as the Boston Comedy Club, Caroline's, Stand-Up NY, The Improvisation, The Laugh Factory and The Comedy Store in Los Angeles. His performance at the Montreal Comedy Festival led to work in feature films such as Paper Soldiers (2002), Scary Movie 3 (2003) and Along Came Polly (2004). He has also made guest appearances on the TV series Undeclared (2002) and worked on a pilot called Class of '06 (2002).
Hart executive-produced, wrote and starred in the ABC-TV sitcom The Big House, which debuted April 2, 2004 and was loosely based on his family in Philadelphia. He also played the lead role of Nashawn in Soul Plane (2004), about a man who is awarded $100 million as a settlement after a humiliating and horrific experience on a commercial airline flight. Hart went on to star in several other feature films, including Little Fockers (2010), Let Go (2011), Think Like a Man (2012), The Five-Year Engagement (2012). More recently, he starred in the comedy Think Like a Man Too (2014), About Last Night (2014) and The Wedding Ringer (2015).
In 2005 he won a Platinum Mic Viewers Choice Award at the BET Comedy Awards.
He can most recently be seen co-starring alongside Dwayne "The Rock" Johnson in the buddy comedy Central Intelligence(2016) and the animated feature The Secret Life of Pets (2016). Also in 2016, he released the follow up to 2013's comedy special Let Me Explain, Kevin Hart: What Now?, which sees him performing his energetic stand-up to an audience of over 50,000 at Lincoln Financial Field in Philadelphia.
His latest project is the animated comedy Captain Underpants: The First Epic Movie (2017) with Jordan Peele and Ed Helms.
Hart has two children with his wife, Torrie, whom he married in 2003, and divorced in 2010. He then began dating model Eniko Parrish, and on August 13, 2016, the couple were married near Santa Barbara, California.
Filmography:
Jumanji (2017)
Captain Underpants: The First Epic Movie (2017)
Kevin Hart: What Now? (2016)
The Secret Life of Pets (2016)
Central Intelligence (2016)
Ride Along 2 (2016)
Get Hard (2015)
The Wedding Ringer (2015)
Top Five (2014)
Think Like a Man Too (2014)
About Last Night (2014)
Ride Along (2014)
Grudge Match (2013)
This Is the End (2013)
The Five-Year Engagement (2012)
Exit Strategy (2012)
Think Like a Man (2012)
9mm (2012)
35 and Ticking (2011)
Little Fockers (2010)
Death at a Funeral (2010)
Something Like a Business (2010)
Not Easily Broken (2009)
Extreme Movie (2008)
Meet Dave (2008)
Superhero Movie (2008)
Drillbit Taylor (2008)
Fool's Gold (2008)
Soul Plane (2004)
Along Came Polly (2004)
Scary Movie 3 (2004)
Paper Soldiers (2002)
<< back